Leave to the Cult to Stop Gun Rights Violence to illustrate what is the difference between the Gun Culture and the Serf Culture: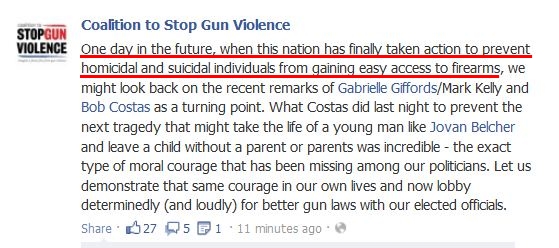 Some people think we are a tad harsh when we call our opponents a bunch of Rainbow Unicorn Fart sniffers. The term might be a little creative, but it is spot on and illustrates that their "thinking" is based on utopia notions of universal peace, love and the endless supply of safety blankets.
Evil men have always existed and always will. The same applies to dangerously psychotic  people who intend to do harm. That they are either evil or crazy does not mean they are stupid or cannot pass for normal people until they are ready to do harm. But CSGV thinks that there are ways to prevent their actions 100% of the time and keep everybody safe from harm if we are only wise enough to give up a little bit of our freedoms. Of course "a little bit" is never enough and they come back for seconds, third, twenty-fourths, etc and the problem is still there or even worse.
We understand and accept that no matter how hard we try, there will always be that person that slips between the cracks or is set free to do harm again by an ineffective legal system or is kept shielded by an interest group or company because they invested too much effort or money to have it go to waste. And as much as we want and push those systems to improve and weed out the worst in our society, 100% is just an unreachable fantasy that usually comes crashing down on the heads of innocents.
Do I want government to keep dangerous people away from the regular folks? Absolutely! Do I trust them to do the job right? Hell no! Have you checked the efficiency of your government lately? And you are gonna trust them with your safety when even the Supreme Court has settled the matter that they have no duty to protect you?
CSGV and its cohorts live in a mental world not too different from the crazies they claim to protect us from. If we give up the tools that will give us a chance to really protect ourselves, somehow according to their deluded minds, the crazies will all suddenly disappear and singing gnomes will lull us to sleep in a pink cloud of happiness while free Starbucks will flow from the skies above.
Call me crazy, but I choose to live in the real world.