Today's manure storm comes courtesy of the NY Post and its front page pic: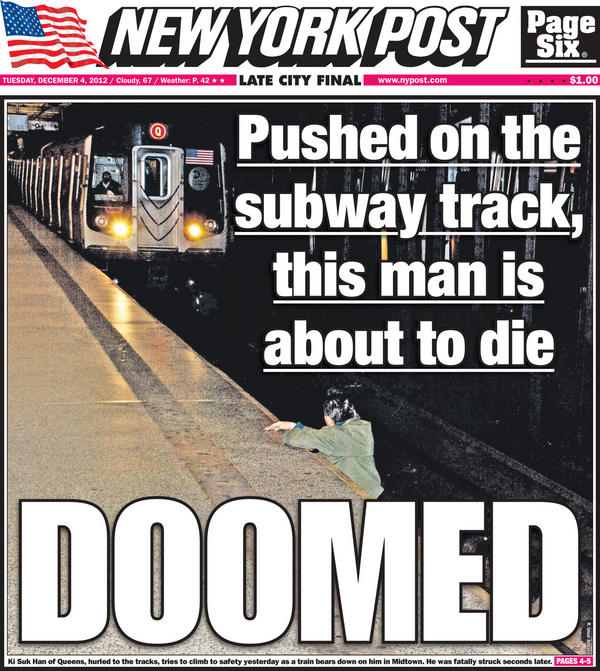 An Aggressive Panhandler attacked a rider and tossed him into the tracks as the train was coming. A NY Post Freelance photographer started to shoot his cam activating the flash trying to get the attention of the conductor and have him stop; it did not work. Among the pictures taken was the one that made it to the front page today.
When I saw the photo, my first reaction was "I hope they caught the bastard and thrown him in jail till he rots or asks to be thrown to the tracks." but apparently it has been the photo and not the action that is creating quite the controversy. It appears that even though there is no gore or blood doing a Pollock over the platform, people are just horrified that the Post would publish such a "ghoulish" image. Ladies and gents, would please kindly remove your heads from the sand and face the ugly reality that is life?
I wonder how many of those horrified by the still are fans of shows like "America's Funniest Videos" or The World Dumbest (pick of the week)" and just because there is a laugh track on the background they feel the videos are not ghoulish or nasty or cruel. A skateboarder missing a jump and breaking bones is hilarious because the producers of the show say so and some dumb ass former TV star makes a stupid commentary so it is OK to watch. The NY Post publishes the graphic fact that evil is around us ready to strike and kill and almost everybody wet their ladyparts.
Life is not Disney World. If you cannot understand that, you will suffer accordingly.