From your friends at CSGV: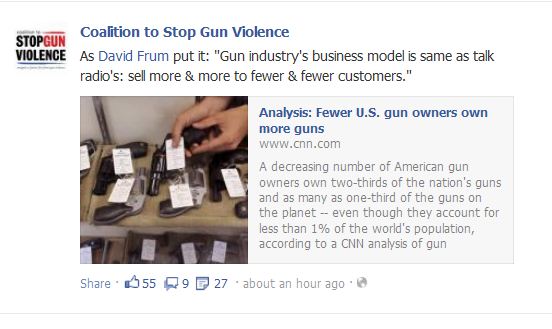 David Frum and the rest of the Antis keep beating the tired old drum that we are an insignificant majority. But for argument's sake, let's play with their own numbers, shall we?
  The number of households owning guns has declined from almost 50% in 1973 to just over 32% in 2010, according to a 2011 study produced by The University of Chicago's National Opinion Research Center. The number of gun owners has gone down almost 10% over the same period, the report found
So got my Google-Fu skills out, did some searches plus added math and here is what i got:
The number Households in the US according to U.S. Census Bureau (2010): 114,800,000. A "little over" 32% would be about 37,000,000 households with guns or 9.5 guns per household. Let's say that every household has 100 rounds of ammunition for all 9.5 gun or 10 rounds per gun (incredible miniscule amount, it is usually considered 100 rounds per firearm) that makes it 3.7 billion rounds of ammunition in the hands of civilians right this second.
From 2008 to 2012, close to 57 million firearms were sold to US Citizens. Again let's set a ridiculous low average price for guns of $500 a piece which gives us $28.5 billion dollars which is bigger than the average annual individual budget for half the States in the Union.
Back again to household numbers; the U.S. Census Bureau states that the average household contains 2.6 people. That makes it 96,200,000 individuals owning 350,000,000 firearms (3 guns per individual) and 35 billion rounds.
Again according to U.S. Census Bureau, Florida has 7,140,096 households. Again using the 32% household with guns stat, we get 2,284,830.72 armed households or 5,940,559 Floridians with at least 3 guns each and a grand total of 1.7 billion rounds of ammunition at their disposal. The active military of US, China & Russia combined make up for 4,797,219 individuals.
Basically, if we were the violent, bloodthirsty, insurrectionist nutjobs that the Gun Control Advocates portray us to be, Florida alone could take over the DC, NY & Boston corridor over the weekend and be back to work on Monday. But we just don't want to subject Canada to that huge influx of politicians on the run.
Coimhead fearg fhear na foighde
Just saying.