Frankly I am amazed that it took them this long to find about it.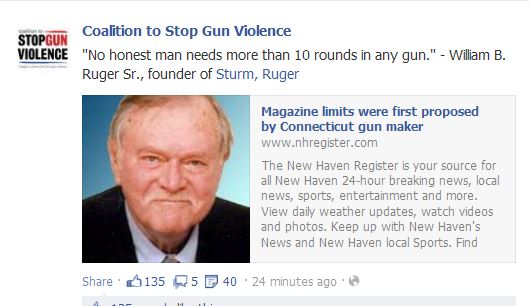 Bill Ruger was a great gun designer and manufacturer, but he was a treasonous f*** to Gun Owners. He was an old school businessman that expected to save his company from the impending legislation that ended up being the Assault Weapons Ban by feeding the wolves a small part of his business body and everybody else's full bodies with the belief that they would leave him alone and continue business as usual. He greatly miscalculated in several fronts: The political wolves are never satisfied and they will keep wanting more. Almost all other firearm manufacturers stopped being competitors (in the stupid way) and joined forces to fight the common enemy. And his customers turned against him and the brand.
It took the company over a decade to recover from such a gigantic misstep. The new board of directors had to pretty much convince the public that they had no relationship with the old man Ruger and still to this day, many Gun Owners refuse to buy Ruger products.
Possibly the greatest insult hurled at Ruger was at a gun show I was attending around the year 2000 or so. At one table there were selling a Mini-14 (the specific gun which made Bill Ruger write his letter to Congress) for a fairly decent price but nobody gave it a care. There were two other guys perusing the offerings and one pointed the Mimi-14 to his friend who said "I rather buy a turd than a Mini-14." Sales of the Min1-14 never recovered and the new Ruger corporation moved to build its own version of the AR to compete in the long gun market.