---
NYC Politicians can't do math…again.

The NYPD is the second biggest purchaser of guns in the country after the federal government, Stringer said, but the department has refused to disclose exactly how much it spends on firearms for security reasons.
Cops choose their own guns from a department list of approved models.

Backers say that if the city tells gun manufacturers they'll buy from whoever produces the technology, the industry will fall in line.

"We want to create that market. We demand a smart gun. And the company that produces the smart gun will get our business," Stringer said. "These gun manufacturers, they don't want to introduce smart guns because they've got to take on their friends at the NRA. We're now going to say to the NRA, we're bigger than you, we're stronger than you. Because we've got the money."
Source: Top pols urge mayor to invest in smart guns for NYPD – NY Daily News
NYPD is what? 35,000 cops? So let's exercise power and buy all of them a new pistol…but that would only amount to one month or maybe a month and a half of gun sales…. in New York State.  According to ATF numbers, there were  34,195 background checks which included 11,963 for handguns and 15,324 for long guns…in February alone.
Notably absent from the Daily (We hate the NRA soooo much!) News are comments from the NYPD Union or rank and file members. I mean, if they are the ones that are going to get socked with this guns, they should have a say about it, right?
New York politicians should stop riding the Magical Government Unicorn for Gun Control and figure out a way to reduce violence.
And for you laughing pleasure, please check the photo from the article and accompanying caption.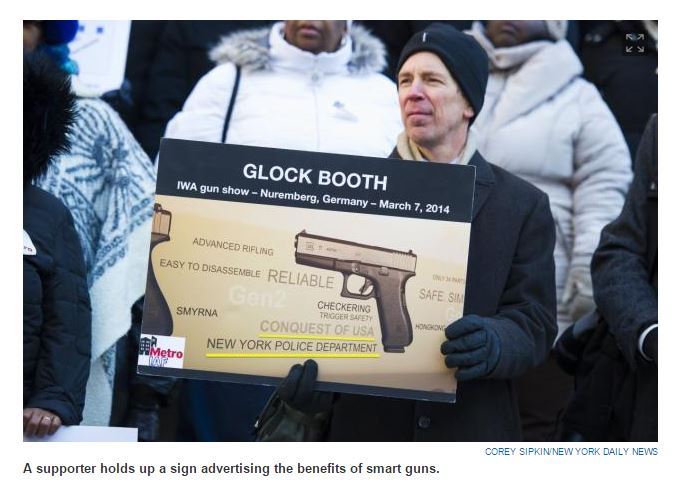 You just can't make this s*** up.
Hat Tip to The Gun Writer.