---
Dumb and dumberer or why is always important to dig deeper.
I read J. Kb's post Dumb and Dumber and I decided to go deeper into the examples given in the original article. The Mic.com article  If You Can't Drink and Drive, You Probably Shouldn't Drink and Carry a Gun, Either.  post 12 cases of alcohol and guns with bad consequences and I went ahead and went a bit deeper into each case:
1
.

Dru

nk man shoots

restaurant owner

(New York) 

Right out of the bat, this one stinks. NYC, really? Who carries in the Big Apple? Cops, those who can afford and have the connections to get a permit and the criminal element. Sorry Mic.com, your exasperation towards legal Concealed Carriers falls flat with this example. Five gives you ten the perp is a criminal.
2. Intoxicated man shoots woman during a movie (Washington)
This one I had to do research because the linked article fails to give decent information. I had to do the research for them.
King County prosecutors on Tuesday charged a 29-year-old Newcastle man with third-degree assault, accusing him of criminal negligence for allegedly discharging a 9- mm handgun inside a Renton movie theater last week, injuring a woman seated in front of him.Dane Gallion, who had a concealed-pistol license, was ordered by a judge to surrender his firearms and not to consume alcohol or nonprescribed drugs as conditions of his bail, charging papers say.
Source: Suspect in Renton theater shooting charged with assault | The Seattle Times
So they have one incident. Let's keep going.
3. Drunk man shoots friend… (Ohio)
This one did not take much. The original link gives a rather short story without much background, but further checking reveals the shooter is a felon and thus forbidden by law to own a firearm… not that he cared.
4. Drunk man shoots his dog… (South Dakota)
This looks like a straight idiot and deserving of charges, but no search turned out where the event happened. If he was at his home, then it was not a concealed carry under the influence event as Mic.com tries to insinuate.
5.
Drunk

man shoots his dog (Georgia)

This one is easy because they already provided the unintentional correction.

"Police found the dog in a trash can. According to neighbors, the man frequently got drunk and fired a gun on his property."

If you read the article, you find out the "concealed" weapon in question was a shotgun.
6. Drunk woman mistakenly shoots her husband (Michigan)
According to Mic.com:
She reportedly thought he was an intruder and shot him in the shoulder. 
Which again means she was not out having a night out with friends and carrying loaded on both senses, but at home. I checked other sources and they all say pretty much the same:
St. Joseph County Sheriff's Department officials said Connie Tolbert, 54, was taken into custody after she allegedly shot her husband, 52-year-old Darryl Tolbert, at their residence. He is the pastor at Bethel Baptist Church in Three Rivers.
Source: Tolbert Arrested For Shooting – WLKM Radio 95.9 FM
7. Drunk man shoots his two sons… (North Carolina)
Sad case. The man shot the kids and then tried to off himself…at home. I am starting to detect a pattern from Mic.com
8. Drunk man
shoots himself

… (Nebraska)

This one did not happen at home but inside a car. But again Mic.com should have checked deeper as the "victim" is felon who is now in prison for having the gun in the first place.
9. Drunk man shoots himself… (Nebraska)
The article is so badly written, you can't figure out where did the event happen or gives me enough clues to figure out who did what.
10. Drunk man shoots himself… (Connecticut)
The dumbass author did not bother to read the article he linked to his example:
Maldonado was dropped off at the emergency room and police said they responded a little after 10 a.m.Possession of a pistol without a permit, criminal possession of a firearm and unlawful discharge are the charges Maldonado–who is a convicted felon–face.
Source: Intoxicated Man Shoots Self in Hand While Buying Firearm: Police | NBC Connecticut
Apparently, scrolling down is hard work.
11.
Drunk

man shoots at snow plow driver… (Massachusetts)

I am going to give this one a "neutral" because it did happen outside the home (while driving) although the descriptions are in conflict in different articles. No mention if the guy actually has a permit to carry for Mass.
12. Drunk man threatens pub customers with a gun… (Connecticut)
They managed to find another case where the idjit had permit for the gun! But the link provided does not give that information, I had to find it in another source.
There you have it. On the premise of the article, the author can only find 2 examples out of 12 where people with concealed carry permits broke the law. That is a 16.66% accuracy or what passes for semi-serious journalism nowadays.
Recommended Posts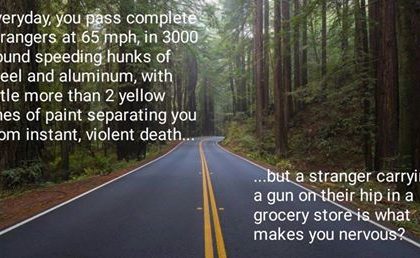 October 25, 2016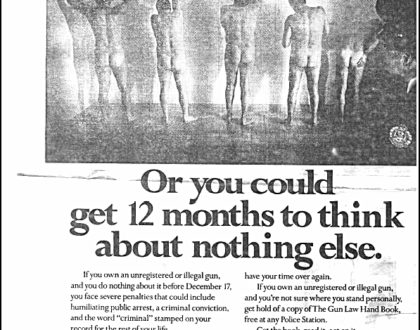 October 24, 2016