I saw these two tweets, one by Vox and the other by Politico, trying to downplay terrorism in NYC.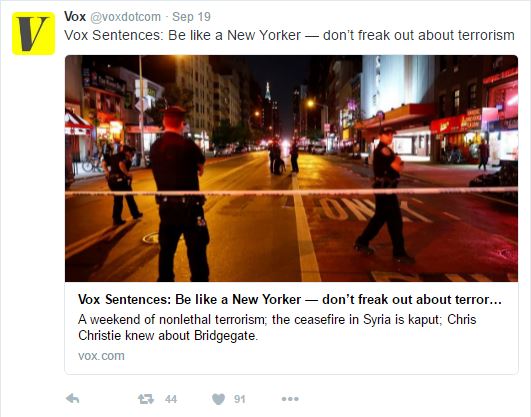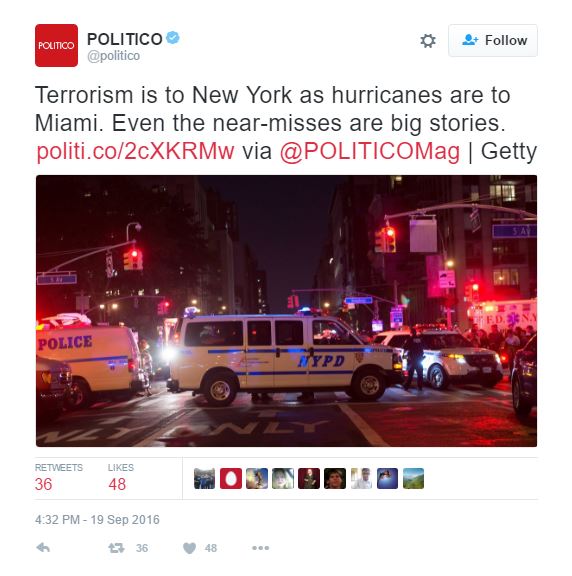 These tweets are practically the definition of surrender.  Don't try and convince me that I should accept regular acts of terrorism in NYC as the new normal.
As a Florida native, let me tell you how I interpret these tweets.
I am a veteran of Hurricane Andrew.  If Terrorism is to NYC as Hurricanes are to Miami, than Hurricane Andrew was our 9/11.  It was a watershed moment in South Florida history that changed the way people thought and acted.  Even people who were born in or moved to Miami after Andrew know about Andrew.
We didn't just accept our city being wiped of the map as the new normal.   We changed all of our building codes.  We put in all new breakwaters and canals.  Most importantly, the people got prepared.
When hurricane season approaches, people start storing gallons of bottled water in their homes.  Nobody lets their tank get to less than half full.  Generators are tested.  Big trees get cut down.  Hurricane shutters go up.  Stores start to run low on batteries and flashlights as everybody starts stockpiling.
It doesn't matter how small the chance is that another Andrew with blow through South Florida, we will be ready when it does.  We're not freaking out.  We're just prepared.
So if I extrapolate that to NYC and terrorism, what I know is that I should:
Have a fighting pistol on me at all times, with at least two reloads.
Bug out bag with an AR, spare rifle mags, knife, flashlight, first aid/trauma kit, and maybe even some AR500 plate armor stashed at both my work and in my car.
When the terror watch list goes to Orange, burn up my carry ammo at the range to check for zero, clean my gun, oil it, and load it up with fresh carry ammo.
Always have a fighting pistol on me at all times.
That's not freaking out, that's being prepared.
But for some reason, I think being equipped like that, would freak out the Quislings over at Vox and Politico.
Update: my post wasn't to list what I'd carry in NYC.  I know NYC is a lost cause of forced government depentcy and learned helplessness  (you are banned from being self reliant even if you want to be).  My was we are seeing attacks across the country in that used to happen only in NYC, e.g., Orlando, Minneapolis, Arkansas,  etc.  If nation wide domestic terrorism is the new normal I will respond with being a prepper as my new normal.  I don't live where we have CCTVZ cameras on every corner.  Just because I move out of Miami doesn't mean I've stopped storing a weeks worth of water and batteries.