Old (very old) readers know about Rick, former blogger for Stuck on the Palmetto and South Florida Daily Blog. He is one of the very few banned trolls in this blog, but he thinks he continues to harass me via Twitter where I have him in mute or whatever is that you get the assholes quieted without outright banning them.
What is fun is that sometimes I get to read what he says because one of his followers replies to a tweet when I am named. If my name is involved is because Rick shares news of a shooting, mostly in California and/or New York City where the All-Goodness of  Gun Control is being defeated by me and the NRA allegedly. Today he was happy to share an incident from South Florida.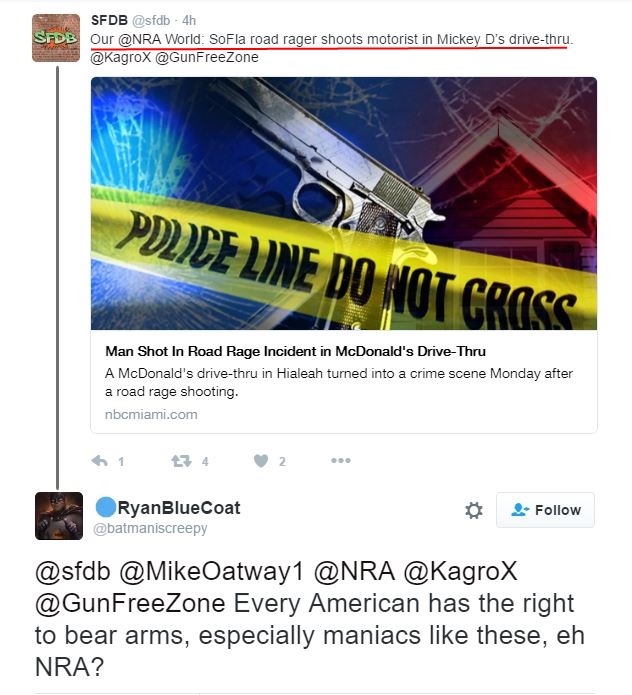 "SoFla road rager shoots motorist in Mickey D's drive-thru."
Sentence has been passed by Judge Rick! The shooter is at fault! Damn the NRA! Right? But by now we know that the first batch of news might not be quite complete or even truthful.
A road rage attack in the drive-thru line of a Hialeah McDonald's Monday night led to a shooting and two arrests, police said.The incident began with a dispute at the fast food restaurant located on West 68th Street and 16th Avenue just after 8:30 p.m., Hialeah Police said.
Police said a couple in one car, 21-year-old Sergio Hernandez and his girlfriend, 20-year-old Vanessa Ivette Puente, got into an argument with 22-year-old Victor Hugo Saavedra.During the incident, Hernandez and Puente began punching Saavedra, who drew his concealed Glock 9mm pistol and fired a round at Hernandez, hitting him in the left pelvic area, police said….
Police said they consulted with the Miami-Dade State Attorney's Office and determined that it was a self-defense shooting, so Saavedra won't be charged.

Saavedra is properly licensed for a concealed weapons carry in Florida, officials said.

Hernandez and Puente are both being charged with simple battery, police said. Puente is also facing a charge of witness tampering for slapping Saavedra's cell phone away as he tried to call 911, police said.

Source: 2 Arrested After Man Shot In Road Rage Incident in McDonald's Drive-Thru in Hialeah | NBC 6 South Florida
Ouch! The road-raging shooter turned out the victim who used his lawfully carried firearm to stop the attack. In Rick's world, Mr. Saavedra is still guilty because he used a gun instead of standing like a man (Can you say that? It is not like a microagression or something?) and allowing to be injured but keeping that Moral High Crater Ground.
So, thank you Rick. Once again you provide with blog fodder and confirmation of your nuttery. This cup's for you.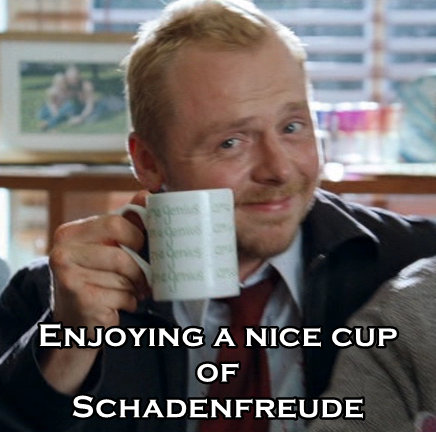 UPDATE: Our Friend Rick (@SFDB) deleted his tweet and two of the followers decided it was better to block me than admit defeat. They might be allergic to Schadenfreude.