Twitchy covered this piece in the Daily Kos, Why Trump voters are not welcome in my house this holiday.
Another anti-Trump, butthurt liberal is canceling his holiday party because he doesn't want to be in the same room with people who might have voted for Trump.
We couldn't invite only the few people we knew who conformed to our sense of decency.  We weren't even sure where some of our neighbors stood. So we cancelled the whole affair.  In fact, I went further.  I told my tennis group, whom I had known for years, I would no longer be playing with them, since most were Trump supporters. I stated that I could not socialize with people who lacked a moral compass which I consider fundamental to being American.  What has brought about such an extreme reaction in me, to the point of cutting off relationships and ceasing activities that I enjoy?  It's really not that complicated.
Some Hillary supporting douche wants to ruin all of his friendships and show everybody he knows just how much of a sanctimonious, hateful asshole he really is because his candidate didn't win the electoral college.  So what?
The answer is: never read the comments.

Lets encourage children to break off friendships and not talk to distant relatives because of Trump.

I wonder if she's going to hold this grudge until her parents dead bed? I don't think she'll ever regret that decision.
It is totally healthy to love Hillary Clinton more than your own mother and brother.

Not just parents and siblings but CHILDREN TOO.  I guess if your kids don't vote the way you want, it is good parenting to write them off as dead to you.

At least fhandar saved money on Christmas presents this year.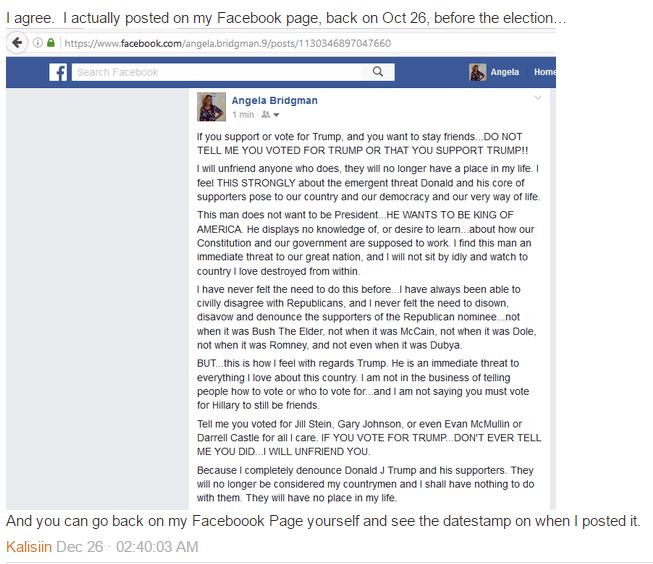 She's bragging about the fact that she went off the anti-Trump rails before the election.  Never mind burning the bridge after the votes came in.  She nuked it preemptively.  Anything less than 100% of the popular vote going to Hillary is unacceptable.

Kalisiin is back.  It it completely wrong, inhuman. and un-Americana to dislike people because they are black, gay, trans, Muslim, or any other sort of minority.  Openly hating and despising people and thinking of them and treating them as less than human because they voted for Trump… well that is just the patriotic thing to do.
I see all of this and have to as, WTF is wrong we people.
I can't imaging breaking off long term friendships over an election, but breaking ties with parents, siblings, and children because of Trump sounds like a mental problem.
My sister is an avowed communist and loves to lecture us about her communist ideologies.  It makes some family dinners awkward, but she's still invited home for the holidays.
I'm a father.  I love my son.  The idea of having a disagreement with him over presidential candidates that makes me want to never see him again is inconceivable.
There is something very, very  wrong with these people.  This type of liberalism really is a mental disorder.