Always check the source, a nice principle to live by even though we (OK, I ) don't do it 100% of the times. For many years I also repeated this quasi-legal slogan till I got corrected. Last night, it was somebody else's turn: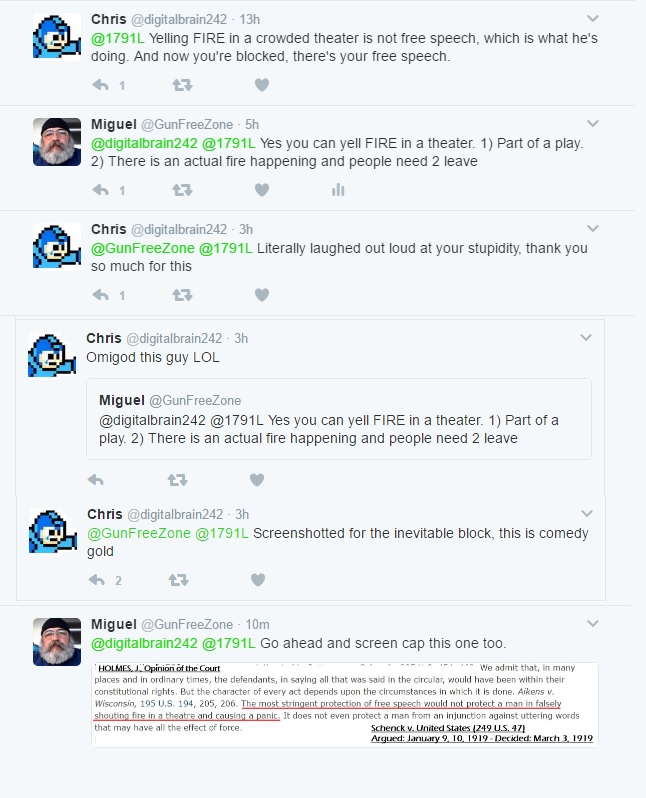 The case I mention at the bottom is Schenck v. United States (1919) and the misquoted passage is the opinion of the court written by Justice Holmes:
The most stringent protection of free speech would not protect a man in falsely shouting fire in a theatre and causing a panic. It does not even protect a man from an injunction against uttering words that may have all the effect of force.
Listen, we are not perfect so expect being corrected. Be open-minded to the corrections, but make sure you are not being led to the primrose patch. Trust but Verify to coin a phrase.
And… don't be a dick till you have full confidence your opponent deserves it. Some people will actually appreciate the correction even if they will not share your view.
Chris @digitalbrain242 has not returned a comment, nor I expect one that would make sense or be anything else that "YOU ARE A NAZI!" which is the new "You are racist!" And there is a meme for that!