Following the GOP Congressional baseball practice shooting in Alexandria, MSNBC correspondent Joy Reid proceeded to explain to the nation how the shooting was all the Republican's fault.  Apparently the GOP position on things like healthcare made the GOP's skirt too short to wear in public.
This followed on the heals of others saying similar things online, which Miguel and I covered previously.
Then a member of the NJ DNC, James Devine, made a tweet including the hashtag #HuntRepublicans.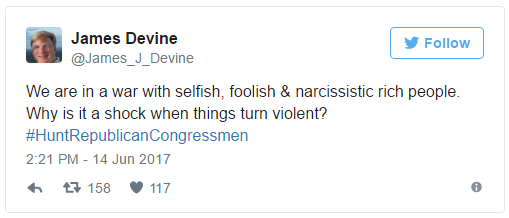 Rather than apologize, he doubled down.  This would have ended the career of a Republican staffer, the Democrat marches on.
Some sycophant on Kickstarter is raising funds for an Elizabeth Warren action figure, who in the promo video, beats up Donald Trump.
The lesson we learned from the Alexandria shooting is: if you are a Republican, a conservative, or something other than an Kool-Aid drinking Leftist, violence directed at you will be excused or maybe even celebrated.
Learning that, Bernie Sanders was on TV, with Elizabeth Warren and called for supporters to "fight back any way you can."
Around the same time, an author on Medium posted an opinion about the Alexandria shooting and Capitol Police Officer Crystal Griner, with this bit of advice:
So: If you see them drowning.  If you see them in a burning building.  If they are teetering on the edge of a cliff.  If their ships are sinking.  If their planes are crashing.  If their cars are skidding.  If they are overdosing.  If their hearts have tellingly arrested.  If they are choking in a restaurant.  If they are bleeding out in an emergency room.  If the ground is crumbling beneath them.  If they are in a park and they turn their weapons on each other:
Do nothing.
"If you seen them walking down the street and they start to cry, each time you meet, walk on by."
Least of all put your life on the line for theirs, and do not dare think doing so, putting your life on the line for theirs, gives you reason or cause to feel celestial.
Saving the life of those that would kill you is the opposite of virtuous.
Let. Them. Fucking. Die.
And smile a bit when you do.
That is a call to deny  person they basic tenets of humanity because of their politics and skin color.  This post was shared publicly by a college professor as an act of Social Justice.
Antifa has responded to Bernie's call for action by calling for "all manner of violence" against Trump Supporters.  They have made it clear from their very own website, that what they want to destroy is normal, civil, society.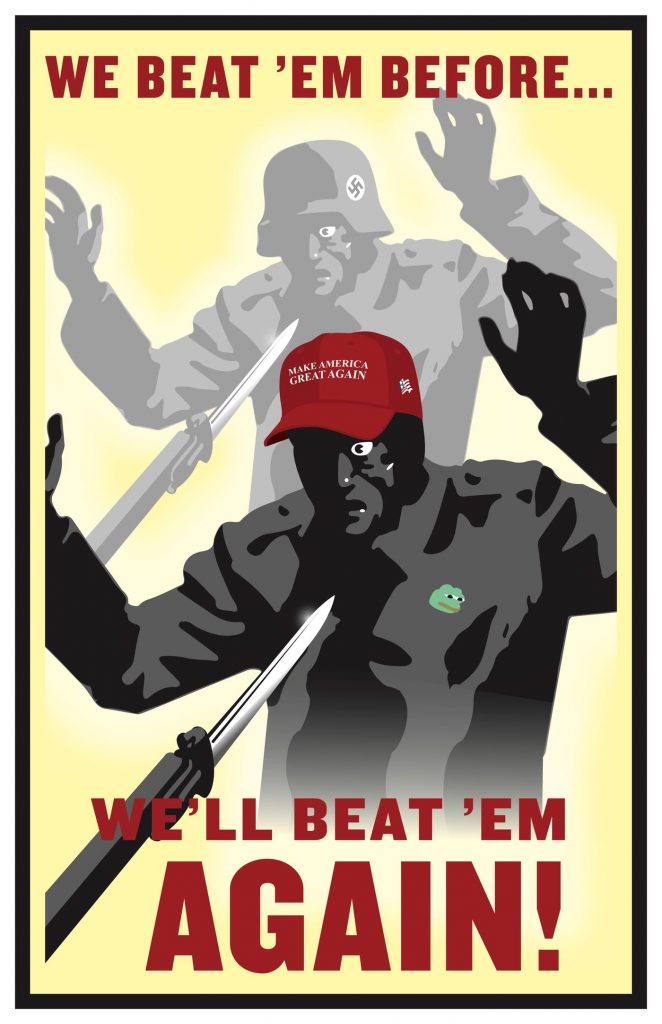 That's you at the pointy end of the bayonet.  Even if you've never worn a MAGA hat.  They don't care.  Either you are with them behind the rifle or at the receiving end of it.
So what I have learned in the last week is that You, I , we… we normal people who go about our lives and our jobs and don't spend every day seething in rage at Trump's very existence are political untermensch.  We can be attacked without condemnation.  When we are left bloody in the streets, their side will be encouraged to walk around us and let us die.
My take away from all of this is, my daily load out now includes a long gun and full trauma kit in my truck.  Every day.
I never expected that si vis pacem para bellum applied to my fellow countrymen.  It does now.