I beg your sweet pardon?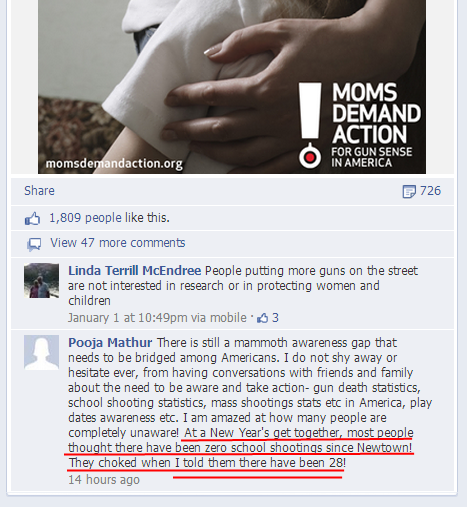 I have to say I choked myself a little bit.  Where did this person get the 28 school shootings since Newtown? That would be more than 2 school shooting per month, every month for the past year.
I have noticed that Moms and other groups are flexible with their definitions whenever is convenient.  Mass killings can be now any time when 2 or more people are killed by anybody and any reason,. So I would not be surprised that a school shut-down because of a crime committed nearby a locale of education is suddenly considered a school shooting. There has been a fair share of Violent Campus crime, so I would not be surprised  they are included in the mix.
So, other than the Arapaho High School incident (which does not help them much due to its outcome), I do not remember any more of these school shootings happening. Of course, I cannot be sure because The Media is in collusion  with the NRA to keep these School Shootings under wraps so both can keep profiteering from their unregulated  sales of fully automatic assault atomic weapons with 30 round assault magazine clips….. yeah, that might be it.