For the most part, I've liked Tucker Carlson's coverage of the COVID-19 outbreak.  He's been good about keeping the focus on China and criticizing other media sources that downplayed the outbreak because… racism.
But Tucker is a journalist and gets stuff wrong too.  When he does, I'm going to call him out.
Sorry, but the CDC is right.
My buddy sent me this picture he took from Publix today.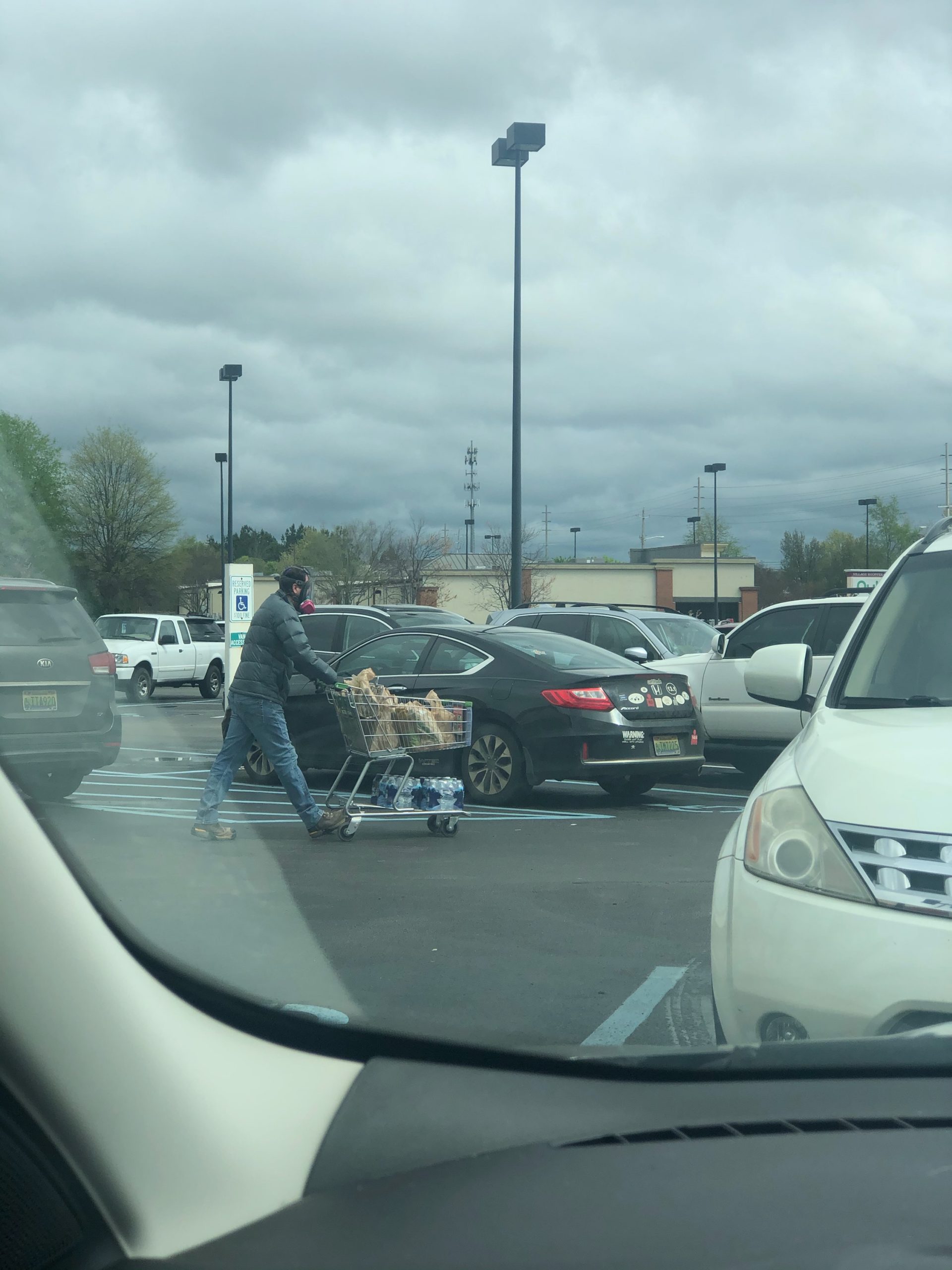 You know what that guy's respirator is protecting him from?
Fuck.  All.  Nothing.
I saw something similar at Kroger the other day.  A woman was wearing a cartridge respirator, with a huge gap above her nose and under her chin.  She bought one or found one that was the wrong size and didn't know any better, so wore it.
I saw another guy in an N95 mask over a beard.  He was wearing his N95 mask on top of a beard.
A respirator that doesn't seal is useless.  Trust me, I know.  I've had to wear respirators for jobs in the oil and gas, chemical, and defense industries.
I've gone through periodic fit testing.  Fit testing is a real thing.  Here is a video on fit testing from the department of labor.
How many of these people wearing N95 masks or respirators have gone through fit testing?  Almost none would be my guess
Now let's talk about the Coronavirus.  It's a big virus at 120 nanometers in diameter.  N95 masks are NIOSH rated to stop 95% of particles 0.3 Microns or 300 nanometers in diameter.  So if there is virus just floating around in the air, even an N95 won't do anything for you.
So who are masks good for?
Assuming that they are properly fitted, medical staff and people who are in close proximity to Coronavirus patients.  Those people who are sneezing and coughing and expectorating an aerosolized mist of saliva and mucus filled with virus.  Then masks will help block a health care worker from inhaling that virus mist.
The person I saw driving in their car with the windows up, wearing a mask wasn't protecting himself from anything.
So what about all the Asian people wearing examination masks, the kind your dental hygenist wears?
They are not healthy people trying to stop themselves from getting sick, they are sick people who as a courtesy are wearing the mask so they do not spray their virus mist onto other people.
This is why your dental hygenist wears a mask.  Not to stop from catching something from you, but to stop her from coughing directly into your open mouth while you lie there getting your teeth cleaned.
The woman at the nail salon will wear one to stop from inhaling fingernail dust.  Some people, especially in Japan, will wear them for seasonal allergies, and they are useful (when you can get them cheap) for when you using a sander because they will filter out big particles like coarse dust and pollen, but nothing in the micron or sub-micron size.
For a healthcare worker, they are better than nothing to stop the spray of spit from a patient to coughs into their face at point plant range during a swab, but that's what they are effective against, chunky particles like sneeze spray.  And only marginally at that.
Now let's talk about gloves.
I cannot tell you how many people I've seen wearing gloves when they get out of their car, go through the grocery store, touch the credit card PIN pad, then back out to their car, and drive away in the same gloves.
Those gloves are contaminated.  They are carrying everything everyone who touched that PIN pad and shopping cart before them on their gloves and transferred that to their steering wheel and groceries.
The gloves at that point are useless.  Of course, these people do not practice proper glove removal procedures to avoid contamination.
This is also a problem with the masks.  Even with a properly fitted and sealed mask, improper removal and disposal exposes the user to the virus.
So yes, people who are not properly trained and fitted, who do not practice proper mask and glove procedure might as well be wearing nothing.  They get no benefit.
Here is where it gets worse.
People often engage in a behavior called risk compensation when it comes to safety gear.  A famous case from automotive engineering was when airbags first became mandatory.  People thought the airbag would protect them so they didn't wear seatbelts, increasing the fatality rate of accidents.  Airbags only work in conjunction with seatbelts.
You can see this phenomenon every winter when some idiot drives recklessly in the snow because he has 4WD and thinks that makes his car magic in the snow.
So there is a likelihood that people wearing masks and gloves improperly, will engage in risk compensation and avoid social distancing or visit an infected family member or do something else stupid that gets them infected because they think "I'm wearing all the right gear, I'm not going to get sick."
The government wasn't lying.  It just wasn't blunt enough to say:
"You dumb shits have no idea how to maintain safety and sterility with your equipment so it's doing nothing to protect you.  All you are doing is wasting a resource that could go to someone who really needs it.  Just go to the grocery store only when necessary, stay out of sneeze distance from strangers, and wash your damn hands."
Part of the problem here is that the media need us to panic to sell viewership.
They have a financial incentive to make you believe that this is the opening to The Omega Man instead of just a really bad case of the flu.
Pictured: not fucking reality.
For people with preexisting conditions, the elderly, and healthcare workers, every little bit helps.
But going to Kroger in a bad fitting drywall respirator and gloves and not practicing sterility procedures is a waste of money and will do precisely dick to keep you safe.