I am a huge fan of Mike Rowe, the host of Dirty Jobs and Somebody's Got To Do It.  I love his TED talk, it is 20 minutes of your life well spent.  I am a supporter of the MikeRoweWORKS Foundation and his advocacy for vocational and craftsmanship education.  Recently he did an episode of Somebody's Got To Do It at Demolition Ranch, which was pretty cool.  But this post is not about that.
I have made reference to the pathetic opinion piece 27 Ways to Be a Modern Man from the NYT before.  Well Mike Rowe did a fisking of it that was, needless to say, beautiful.  There were two, inarguable points he made that stuck out at me:
A Man's Man prefers his gas tank full, his weapon loaded, his pantry stocked, and his checkbook balanced.
and
A Man's Man owns at least one firearm. He knows how to use it, clean it, and store it properly. He understands it's importance, and sees it for what it is – a tool that can protect him and his family.
Mike Rowe gets it.
On the Book of Face, some NYT Modern Man took umbrage with Mr. Rowe's assertions.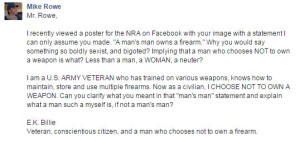 "I recently viewed a poster for the NRA on Facebook with your image with a statement I can only assume you made. "A man's man owns a firearm." Why you would say something so boldly sexist, and bigoted? Implying that a man who chooses NOT to own a weapon is what? Less than a man, a WOMAN, a neuter?
I am a U.S. ARMY VETERAN who has trained on various weapons, knows how to maintain, store and use multiple firearms. Now as a civilian, I CHOOSE NOT TO OWN A WEAPON. Can you clarify what you meant in that "man's man" statement and explain what a man such a myself is, if not a man's man?
E.K. Billie
Veteran, conscientious citizen, and a man who chooses not to own a firearm."
I'm going to take a little diversion here.  There is something I need to get off my chest, an opinion, that is … controversial.  Perhaps to the point of heresy.  I am tired of the post 9/11/Iraq/Afghanistan veteran hero worship.  I will be the first to admit that my military service never got past ROTC and some National Guard Training.  I was never deployed.  I am not a veteran.  As a civilian, however, I was a part time instructor in math for airmen at Ellsworth.  I also did research for DARPA (the Defense Advanced Research Projects Agency) and worked with soldiers and airmen on these projects.
There are many people who enlisted because of a sense of duty or patriotism.  There are also a lot of people who enlisted because they were stuck in Podunk, USA or didn't/couldn't get into college and their lives were going no where and thought that a 4 year term of service and some job training would be the way to do something other than flip burgers for the rest of their life.  They saw the military as just another job, be it counting bombs in the arsenal or maintaining aircraft flight records or doing whatever.  Their 9 to 5 was done in a blouse that said ARMY or USAF instead of one with the Golden Arches on it.  These people may technically be veterans, but they are not heroes, and I really don't give their opinions much value, especially when it is used as an appeal to authority to take away my gun rights.
I don't know anything about Mr. E.K. Billie's service record.  He could have been a bad ass door kicker.  But since he doesn't mention that, there is an equally likely chance that "I am a U.S. ARMY VETERAN who has trained on various weapons, knows how to maintain, store and use multiple firearms" means that he spend 4 years at a base NOT in an active combat zone signing weapons in and out of the arsenal.  Either way, the implication that Mr. E.K. Billie asserts is that he is a manly man, He-man, alpha wolf, weapons expert who chooses to be disarmed as a civilian.  Then he busts out with the "Why you would say something so boldly sexist, and bigoted?" which really sounds a lot more like some SJW type whining than manly man, alpha wolf type behavior.  
Mike Rowe's response to Mr. E.K. Billie was that that his (Rowe's) comment was tongue in cheek.  No.  It wasn't.  It was spot on.  Mr. E.K. Billie is the who doesn't get it.  He supposedly had the intestinal fortitude to, presumably, stand armed at a wall to defend his nation, but can't muster up the same resolve at home with his family.  That is not what a man's man does.  A man's man protects his own.
And no, Mr. E.K. Billie, not owning a gun doesn't make you a woman.  There a are plenty. of. women who get it more than you do.  But if you wan't a label to describe your position, I'll give you one: emotional eunuch.