This was found in The Idealist, a jobs website for mostly unpaid internship or as they say "Idealist is all about connecting idealists – people who want to do good – with opportunities for action and collaboration."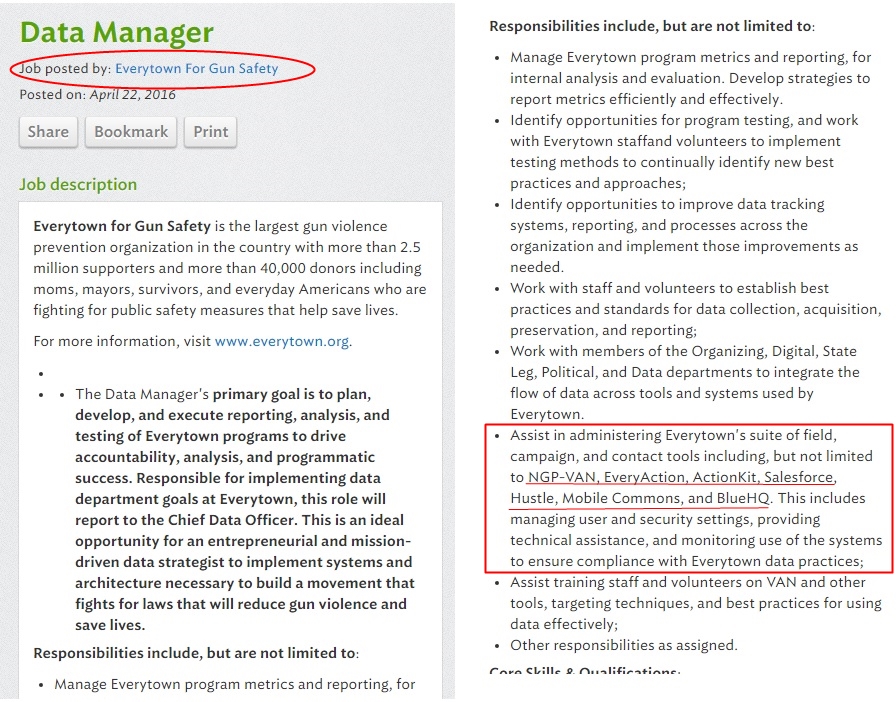 Assist in administering Everytown's suite of field, campaign, and contact tools including, but not limited to NGP-VAN, EveryAction, ActionKit, Salesforce, Hustle, Mobile Commons, and BlueHQ. This includes managing user and security settings, providing technical assistance, and monitoring use of the systems to ensure compliance with Everytown data practices;
So, I did a little bit of Google-Fu and came up with:
NGP-VAN is a privately owned American company specializing in helping progressive campaigns and organizations leverage technology to meet their goals. Nearly every major Democratic campaign in America is powered by NGP VAN, including the Obama campaign's voter contact, volunteer, fundraising and compliance operations in all 50 states. The organizers, fundraisers, and strategists that use our tools work tirelessly to advance important causes and elect inspiring leaders, like President Barack Obama and Senator Elizabeth Warren. From equality + reproductive rights to education + climate change, the passions of these leaders and organizations are shaping a brighter future – and we're passionate about offering them the technology they need to bring their goals to life.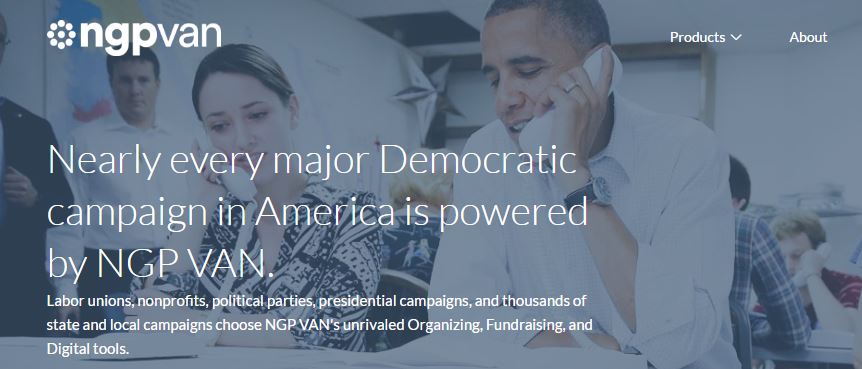 Next we have:
At EveryAction, we've walked in your shoes and get what you're doing; our team of experts have held senior digital, fundraising, and organizing roles at nonprofits, and we helped pioneer online fundraising and advocacy. The insights we gained from this experience, combined with a top-notch in-house technology team, have allowed us to build best-in-class tools that have helped thousands of clients – both large and small – raise billions of dollars, send billions of emails, and recruit millions of new supporters.

And then we have:
ActionKit  is used by progressive organizations, large and small, around the world, to make a difference on issues from climate change to gun control to disaster relief to social justice and more.

Next on the list is
Mobile Commons by Upland is the leading mobile messaging platform offering mobile strategy to the most influential brands, government agencies, healthcare groups, higher education institutions, and nonprofit organizations in the world, including the New York City Department of Health and Mental Hygiene, DoSomething.org, Viacom, Bowling Green State University, the Human Rights Campaign, and more.
The list of clients is interesting.

Salesforce appears to be just a straight company with no political tendencies. They have a long list of clients including big commercial names. I guess they need a true capitalist to gather money and info. As for Hustle and BlueHQ, I could not find reliable info so I am leaving them out.
The alleged Grassroots Movement for "Gun Safety" appears to be long  staffed by Liberal Mercenaries. Make no mistake, the companies above are getting their pockets filled, there is no fight out of the goodness of their hearts. It is also interesting that at least three of them are fundraising engines with long political experience. We knew that monies from special donors were being spent and it is good to see where it is going.
And you know? I like that. It proves that the Opposition never had any real support from the common folk and they had to resort to use their cash or collect it to hire Hessians and fight us.
And they still cannot win. The uncouth plebe has not only resisted but is beating them.
And they will not win.
We are the Righteous.