Dear old ACLU doing its best to be irrelevant. They decided to join the Black Lives Matter crowd in the issue of Harith Augustus who got shot by Chicago PD. The initial word was spread that Mr. Augustus was brutally shot by the pigs of CPD while he was on  his way to church and he was not armed, of course. And as it happens, not only Mr. Augustus was armed, but he drew his weapon towards the officers. More at the end of this post.
Back to our friends of the American Civil Liberties (only the ones we like) Union. They decided to publish a Tweet with a damning message against Law Enforcement and a video with the names of Black people shot by police since 2016. Here is a screen capture.

One comment I read was that the ACLU was not making a difference between bad shootings by cops and justifiable shootings. I decided to check out the first 10 names in the list and, what do you know? Nine out if the ten were indeed police having to deal with criminals.
"A second suspect in Martin's death, 30-year-old Germonta Wallace, was fatally shot by police when they attempted to serve a warrant on him and he reportedly opened fire."
RAGLEY, LA (KPLC) –
A man killed by Beauregard Parish Sheriff's deputies was armed when he was shot, according to new information made available Friday by the department.
Eric John Senegal, 27, was killed at a residence on Gene Stanley Road in Ragley Monday evening as Beauregard authorities served a drug search warrant.
During the investigation, Callaway saw Rodney Turner, 22, walking in the complex, and said he matched a suspect description.
According to police, Callaway tried to question Turner, but Turner grabbed Callaway's rifle and attempted to disarm the officer. Police said Callaway saw that Turner had a gun, drew his sidearm and shot at Turner during the scuffle. Turner fled, but his weapon was found at the scene.
CMPD says patrol went to the neighborhood at about 5 a.m. after they got a call about shots being fired. When they got there, Carlton Antonio Murphy walked out of an apartment on the second floor and started shooting at officers from the balcony, hitting a patrol car.
Rakeem O. Bentley, 24, during a struggle with several members of the FBI's Southeast Michigan Trafficking and Exploitation Crimes task force, nearly overpowered one of the officers involved in the sting, unholstering his gun and shooting him in the stomach, according to the summary, obtained via Freedom of Information Act request.
ST. LOUIS (AP) — St. Louis police identified the 52-year-old man killed by an officer after a reported fast-food restaurant robbery. Police on Monday named Crayton West was killed during what they said was a Sunday evening armed robbery at a Kentucky Fried Chicken restaurant.
Louisiana man shot dead by police after hostage standoff that saw him hold his girlfriend in a trailer for three hours before threatening to shoot her
Saint Landry Parish Sheriffs Office SWAT team shot 40 year old Timothy R. Albert who later died upon arriving at hospital
Around 11 a.m. Wednesday, deputies responded to a neighbors call saying that Albert, armed with a rifle, was chasing a woman in the yard.
An Oklahoma Highway Patrol trooper chased Eufaula bank robber Cedric Norris north on U.S. 69 for three minutes on Jan. 21 before tapping Norris' vehicle with his cruiser, causing it to crash, newly released dash-cam video footage shows. Twelve seconds after his SUV ran off Onapa Road, Norris and authorities from three law enforcement agencies — the Eufaula Police Department, the McIntosh County Sheriff's Office and the Oklahoma Highway Patrol — began to exchange a minute's worth of gunfire. More than 40 shots can be heard on the audio, but it's still not clear how many officers fired shots at Norris.
[Jonathan] Bratcher, 32, was killed Jan. 27, 2016, near Mississippi Boulevard and South Parkway East after firing at officers while fleeing from his vehicle to avoid arrest. His car was being pursued by police on traffic charges.
This is the crap that organizations that claim to be serious and upstanding, cannot fall for just because it makes good politics. The ACLU is not well liked by Gun Rights people for a long while now because their stance against the Second Amendment. But they cannot afford to lose credibility playing dumb rhetorical games or simply misguide followers in a day and age that a quick Google search can and will bring the facts of a case.
Let's go back to the shooting of Harith August which led to protests in Chicago when social media was bombarded with the story he was unarmed and shot like a dog. Chicago PD release both pictures and body cam video of the confrontation and guess what? Mr. Augustus did have a gun and make the stupid mistake of resisting arrest and draw his gun with cops around.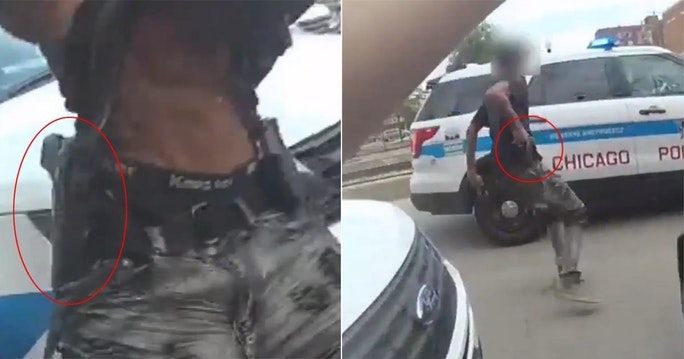 The ACLU instead of pouring more Napalm to the fire should have asked people to remain calm till the evidence is present, the same thing the NRA does and has worked wonderfully. But as the suspicious sucker that I am, I have to reckon if they joined the false narrative knowing that the lie will travel far and joining the chorus will maybe bring them some much-needed donations? Unfortunately, in this day and age we cannot longer assume they are doing stuff wrongly because of ignorance and with innocence in their harts.