I Just saw this in Twitter: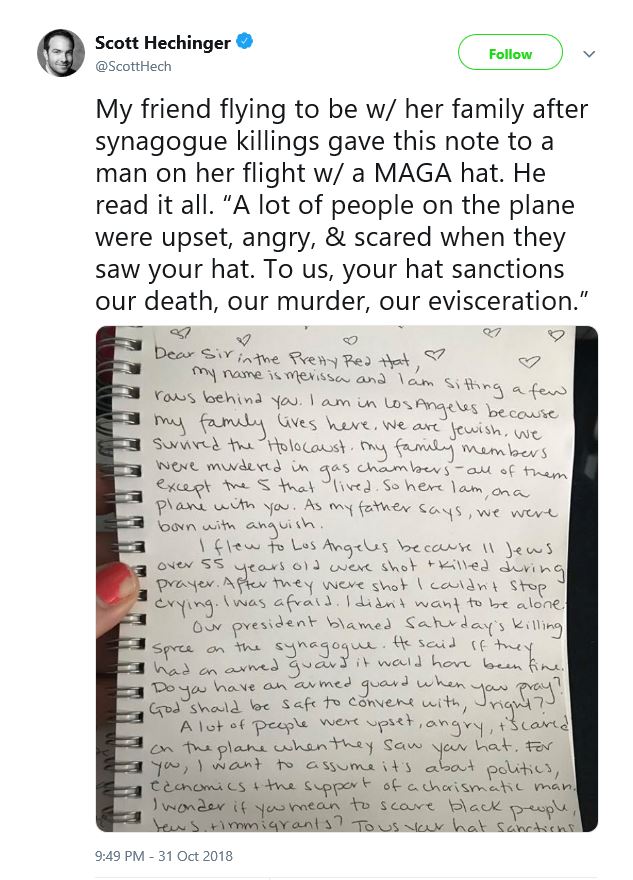 Here is the letter on its own: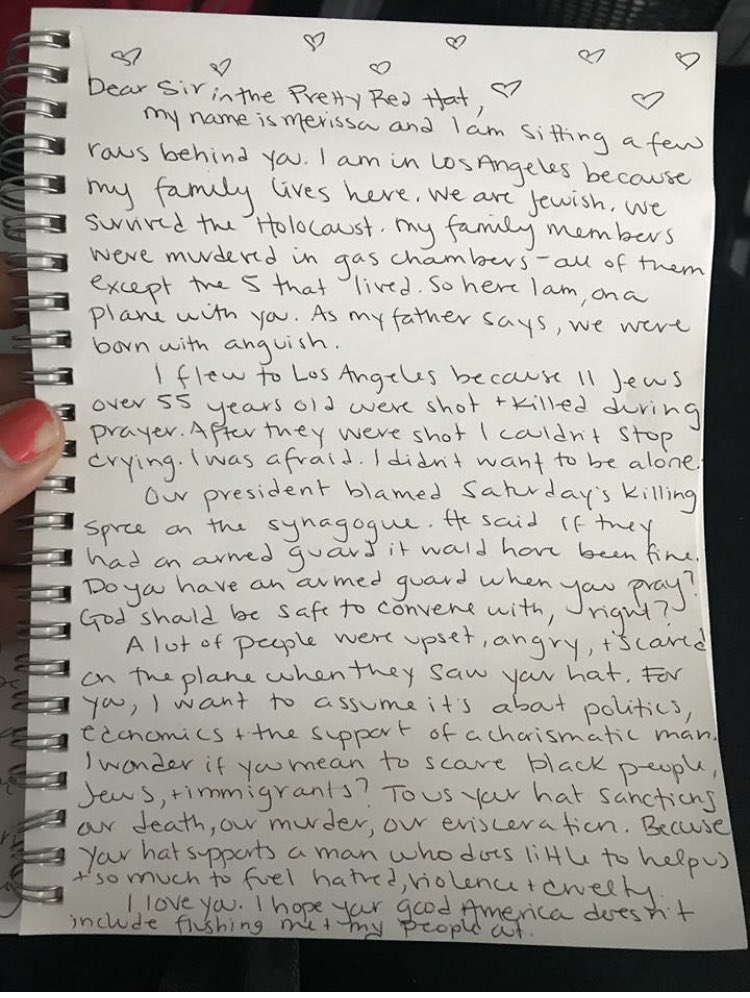 So this girl (I can call her woman) apparently an adult sees bad shit on TV and her first reaction is hopping on a plane to California and Daddy's lap.  I can almost bet you she is into the Israel Boycott, Divestment, Sanctions movement at college and making kissy kissy with Palestinian fans.
So she sees somebody in a MAGA hat in the plane (by now the whole story is starting to smell like week old fish inside an abandoned tire), has some sort of nervous attack and decides to write a missive to the hat wearer expressing why He Bad Support Orange Man.
It is time that American Jews stop being Over Fodder.
"Never again" is the basis for the State of Israel. It does not mean we will wait for a greater power to protect us but that  violence against Israel and its people will be met with even more violence so the Holocaust will not be repeated.
Time to apply the same in Temples and Synagogues across the U.S.
The reason why asshole racist Robert Bowers chose Temple of Life is because it looked like a nice fat soft target filled with the people he hated. If that is what they call Victim Blaming, so be it. Any Temple, any synagogue that ignores the reality of centuries persecution and destruction targeted at Jewish gatherings is doing a disservice to its community.
Even the craziest of Anti Semites thinks twice at a well protected target that will shoot back and to kill. If you have any doubts, go have a vacation in Israel.
Again, if this letter and the writer are for real, the father and mother grew somebody whose last words will be "This can't be happening to me!"
We feel empathy for victims, not unprepared whiners.
PS: I am sure J. Kb's and similar parents are NOT preparing their kids for mass execution. Probably the kids will be able to set up interlocking fields of fire and set up booby traps before their Bar Mitzvah.