This is a follow-up to my post Antifa owns America's streets.
This was the original video:
https://twitter.com/MrLeadslinger/status/1391009581900435459
Antifa was able to get away with this because the Chief of Police is a fellow traveler.
Don't think it's real? Here he is talking about it afterwards. pic.twitter.com/ze3DIJhTlq

— Oilfield Rando (@Oilfield_Rando) May 9, 2021
This story took an unexpected turn for the positive.
The Texas Attorney General saw this on social media and decided he was not going to abide Antifa fuckery in his state.
Read my statement regarding a recent episode of mob rule in Plano, TX. And be sure to watch the full 2 min video and see the critical screenshot below. Thank you @JackPosobiec for exposing this! pic.twitter.com/EaYU11Jjsg

— Attorney General Ken Paxton (@KenPaxtonTX) May 10, 2021
Here is the memo: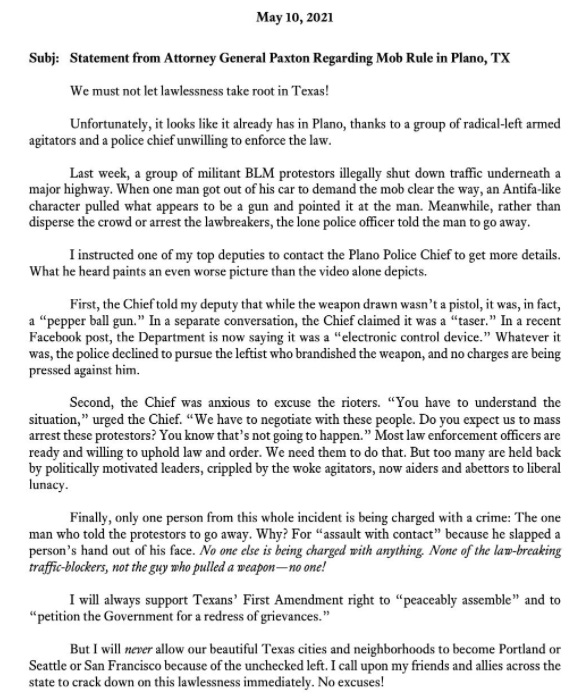 That is a thing of beauty.  The Tx AG called the Plano Chief of Police out for being a political hack.
It will be interesting to see what action he takes against the Plano Chief of Police to make an example of him for other Lefties in public office in Texas.
He's right in his sentiment in the last paragraph, too.  People have been fleeing the Antifa-controlled shitholes of Seattle, San Francisco, and Portland for places like Texas, and no decent Texan should watch as Texas turns into the same Antifa-controlled shithole.
Hopefully, some heads will roll and Texas will nip this shit in the bud before it gets out of hand.