They are into a new push for Universal background Checks. But it seems they are no paying attention to the latest news, specially from the TSA. This is a Facebook post that came out today. I have a feeling they chose the wrong government entity for comparison. Just a hunch.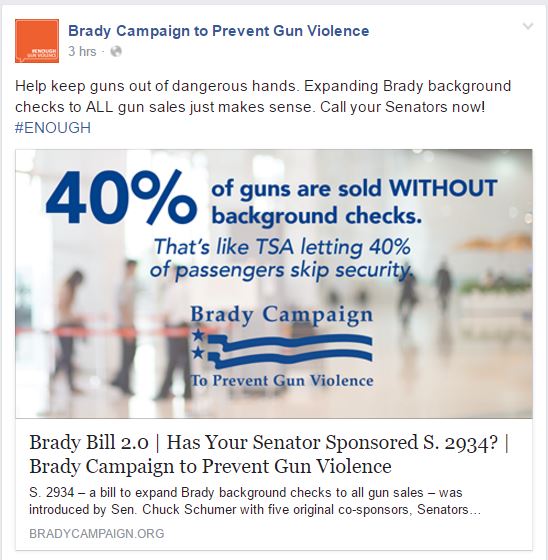 From May 23:
WASHINGTON — Facing a backlash over long security lines and management problems, the head of the Transportation Security Administration shook up his leadership team on Monday, replacing the agency's top security official and adding a new group of administrators at Chicago O'Hare International Airport.In an email to staff members, Peter V. Neffenger, the T.S.A. administrator, announced a series of changes that included the removal of Kelly Hoggan, who had been the assistant administrator for the Office of Security Operations since 2013.Beginning late that year, Mr. Hoggan received $90,000 in bonuses over a 13-month period, even though a leaked report from the Department of Homeland Security showed that auditors were able to get fake weapons and explosives past security screeners 95 percent of the time in 70 covert tests.
Source: T.S.A. Replaces Security Chief as Tension Grows at Airports and Agency – The New York Times
And actually travelers would love to see a reduction of 40% in the TSA screenings since they have become so cumbersome and slow.
Airport screening delays have caused more than 70,000 American Airlines (AAL.O) customers and 40,000 checked bags to miss their flights this year, an executive for the airline told a U.S. congressional subcommittee on Thursday.
Source: Airport screening made 70,000 miss American Airlines flights this year | Reuters
That is just American Airlines!
Seriously, there has to be NRA people infiltrated inside the Gun Control Organizations sabotaging the crap out of their programs. That or they are utterly stupid.
I'll go with #2.