I'll start with this article:
Why is biggest baby formula plant in US STILL shut down after three months? Abbott says plant is safe and was not responsible for bacteria that killed two kids – but FDA refuses to reopen it as parents across US struggle to feed their babies
The biggest baby formula supplier in the U.S., whose Michigan plant was shutdown nearly three months ago, claims the bacterial infection that killed at least two infants did not come from their products.
An Abbott spokesperson told DailyMail.com Tuesday that 'thorough investigation' by the U.S. Food and Drug Administration (FDA) revealed 'infant formula produced at our Sturgis facility is not the likely source of infection in the reported cases and that there was not an outbreak caused by products from the facility.'
However, despite the findings of the investigation, the plant remains shuttered nearly three months later.
The nationwide share of out-of-stock baby formula hit 40 percent in April. Texas, Tennessee, Missouri, Iowa, North Dakota and South Dakota, seemingly hardest hit by the shortages, reported out-of-stock rates of about 50 percent.
As shelves across the country meant to carry baby formula remain largely barren, retailers including Target, CVS and Walgreens are limiting the amount of formula consumers can purchase.
Concerned parents, especially those whose children have unique medical and dietary needs, have expressed feelings of hopelessness and are calling on the government to take action to 'ensure critical, life-sustaining supply chains don't break down.'
Some states had 40% to 50% out of stock on infants formula.
Let that sink in.
Three years ago I wrote a post The difference between Americans and Venezuelans (hopefully).
In it I quoted this article from The Daily Mail:
The heartbreaking footage that lays bare the depth of Venezuela's crisis: Mother carries body of her emaciated 22lb daughter to a morgue after the 19-year-old died when doctors couldn't treat her because the blackout forced hospitals to shut
What struck me was this photograph: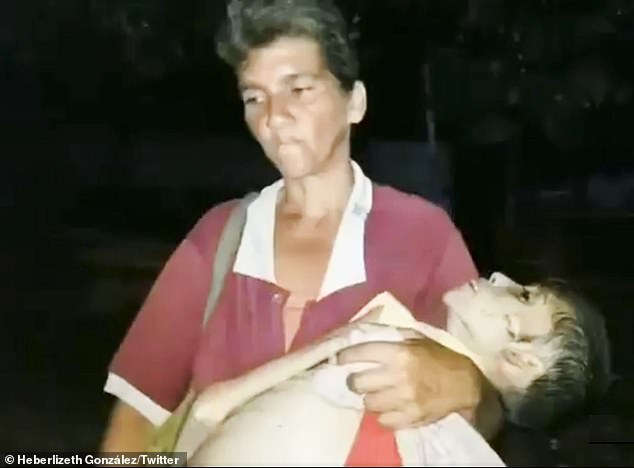 A severely malnourished 19-year-old girl died in her mother's arms after doctors in Venezuela were forced to turn her away because a massive blackout shut down a hospital.
Heartbroken mother Elizabeth Díaz was forced to carry her daughter's body, which weighed just 22 pounds, through the streets to a morgue.
This girl died of malnourishment because of government induced shortages.
There is the very real possibility that in the United States today, infant children will also die of malnourishment due to a government induced shortage.
Children starving to death in the United States because the government absolutely fucked the economy and supply chains to death.
If reading that makes you so mad that blood pounds in your ears, you are not mad enough.
In the America I was born and raised in, children did not starve to death be because shelves were bare.
That is what they did to this country.
I cannot imagine anything worse than watching a child starve to death, except to watch a child starve to death because your government bumble-fucked the system into chaos.
I hope neither God nor man is merciful to those who caused children in America to starve.