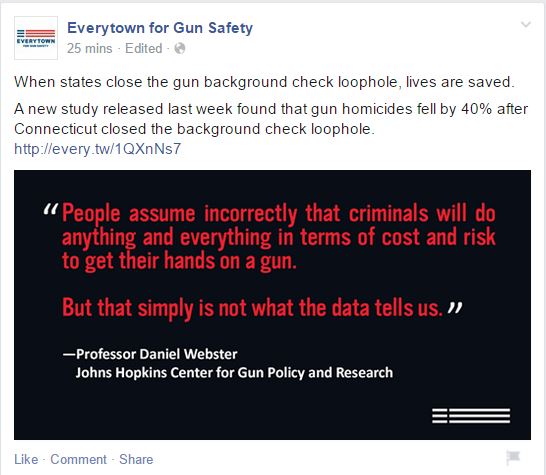 In a study released Thursday in the American Journal of Public Health, they estimate that the law reduced gun homicides by 40 percent between 1996 and 2005. That's 296 lives saved in 10 years
Source: Gun killings fell by 40 percent after Connecticut passed this law – The Washington Post
You see! UBC works! We told you that for a long time! Not like in Florida where we don't have Universal Background Checks and the murder rate only dropped almost 40% since 1996…. wait, How's that possible?
Well, it does not matter, Universal Background Checks will surely protect out kids against crazy people getting their hands on those terrible "assault weapons." That way we can avoid massacres like Sandy Hook Elementary in Connecticut… you know what? Forget it.
Johns Hopkins Center for Gun Policy and Research, a Joyce Foundation funded front "dedicated to reducing gun violence by providing information on firearm injuries and gun policy; by developing, analyzing, and evaluating strategies to prevent firearm injuries; and by conducting public health and legal research to identify gun policy needs" and part and parcel of the Johns Hopkins Bloomberg School of Public Health.
Do I need say more?
UPDATE: Hot Air has a very detailed analysis of the article.