I was going to do a bit on the Baron Sacha Cohen thing, but Michael Bane said it better.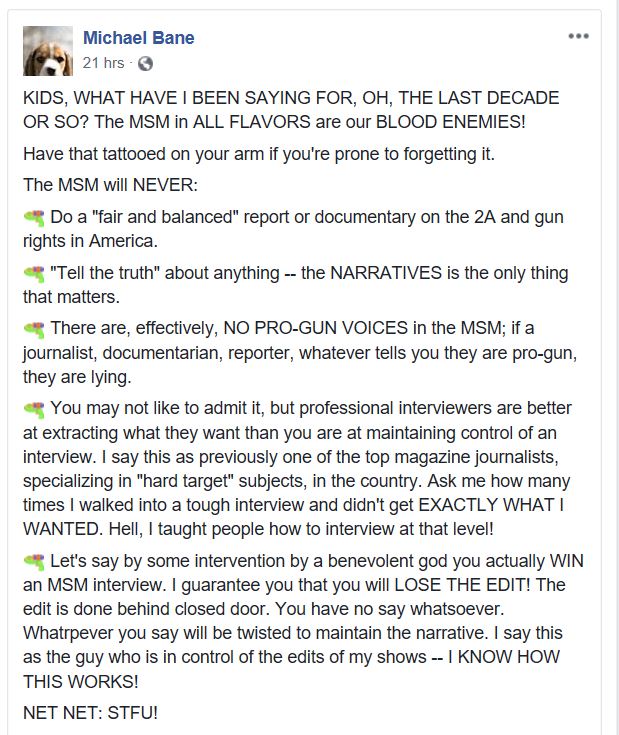 Michael Bane
KIDS, WHAT HAVE I BEEN SAYING FOR, OH, THE LAST DECADE OR SO? The MSM in ALL FLAVORS are our BLOOD ENEMIES!
Have that tattooed on your arm if you're prone to forgetting it.
The MSM will NEVER:
Do a "fair and balanced" report or documentary on the 2A and gun rights in America.
"Tell the truth" about anything — the NARRATIVES is the only thing that matters.
There are, effectively, NO PRO-GUN VOICES in the MSM; if a journalist, documentarian, reporter, whatever tells you they are pro-gun, they are lying.
You may not like to admit it, but professional interviewers are better at extracting what they want than you are at maintaining control of an interview. I say this as previously one of the top magazine journalists, specializing in "hard target" subjects, in the country. Ask me how many times I walked into a tough interview and didn't get EXACTLY WHAT I WANTED. Hell, I taught people how to interview at that level!
Let's say by some intervention by a benevolent god you actually WIN an MSM interview. I guarantee you that you will LOSE THE EDIT! The edit is done behind closed door. You have no say whatsoever. Whatrpever you say will be twisted to maintain the narrative. I say this as the guy who is in control of the edits of my shows — I KNOW HOW THIS WORKS!
NET NET: STFU!
One of my favorite cop shows was Homicide: Life on the Streets. "The Documentary" has to be one of the best if not the best episode of the series. You should watch this part of the show whole, but heed the words of Frank Pembelton and even though it is related to a homicide investigation, use them in your dealings with the media.