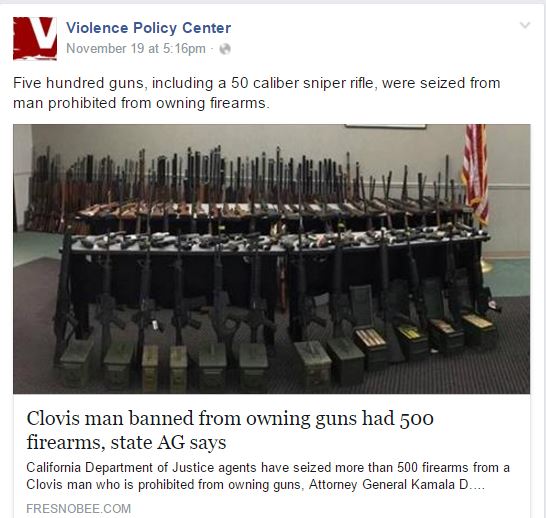 California Department of Justice agents have seized more than 500 firearms from a Clovis man who is prohibited from owning guns, Attorney General Kamala D. Harris announced Wednesday.Albert Sheakalee, 59, was arrested Nov. 12 for illegally possessing the firearms. He was released from jail after posting $11,000 bail.

State Department of Justice agents seized 209 handguns, 88 shotguns, 234 rifles, 181 standard capacity magazines, 10 high capacity magazines, 100,521 rounds of various ammunition and 10 assault weapons, including a .50 caliber bolt action rifle, from Sheakalee's home in Clovis. Sheakalee is in an Armed & Prohibited Persons System (APPS) database due to a prior mental health hold, which prohibits an individual from possessing firearms, authorities said. But as of Wednesday, Sheakalee has not been charged, according to Fresno County Superior Court records.
Source: Clovis man banned from owning guns had 500 firearms, state AG says | Fresno Bee
Here is where it gets interesting.
According to Coleman, in the summer of 2015, Sheakalee went through a stressful time and sought treatment. "He has never been adjudicated as any sort of threat to anyone," Coleman said. "And despite his desire to find help, Sheakalee found himself on a government list which the Department of Justice claims denies him the right to own firearms."
Source: Lawyer: DOJ violated Clovis gun collector's constitutional rights | Fresno Bee
The following day, Sheakalee's lawyer reiterated their position:
Sheakalee's attorney Mark Coleman says his client is not high risk, like investigators imply. "This is a 59-year-old man who has never committed a crime before in his life. He's never been adjudicated by any court as being dangerous, he's never been adjudicated by any mental health professional as being dangerous," said Coleman.
Source: Sheakalee to fight state for his 541 guns – Story
This one stinks to high heaven, but we are going to need more details. Specially with the last part, if neither a judge, nor a mental health professional had him adjudicated, who did and why?