California took another step toward its goal of ridding the state of all gas-powered engines thanks to a new bill signed by Gov. Gavin Newsom on Saturday.
The new law will ban the sale of all off-road, gas-powered engines, including generators, lawn equipment, pressure washers, chainsaws, weed trimmers, and even golf carts. Under the new law, these machines must be zero-emissions, meaning they will have to be either battery-powered or plug-in, according to the Los Angeles Times.
California law bans small off-road gas engines, including lawnmowers and chainsaws (msn.com)
After more than two decades in a Hurricane zone, I still can't shake the idea of living without a generator. In fact, it was one of the first things that went inside the container while we were packing.  And here is the thing: I moved from a location with a pretty stable power supply to another with also a stable power supply. Regions of California has been suffering blackouts for years and years now without any real investment on eliminating them and a bunch of political mandates to depend on unreliable sources of power.
The new law is expected to affect nearly 50,000 small businesses. California's budget includes $30 million to help professional landscapers and gardeners quit using gas-powered equipment, but even then, the budget is still not capable of bearing the full financial burden.
That comes to $600 per small business using gas powered small engines. Truthfully not enough to buy a good gas-powered lawnmower and trimmer combo and probably insufficient down payment for the Glorious Greta Approved EcoBullshit products
The Green Dumb giants in California are actually pushing for something like this which curiously appeared in my YouTube feed for some strange reason.
It intrigued me, so I watched it and realized something funny: It is not a generator, Sparky. It is a frigging rechargeable battery!
Generator by definition makes its own electricity but the contraption above needs to be connected to a source of electricity to obtain the power it will be used later. And the cost?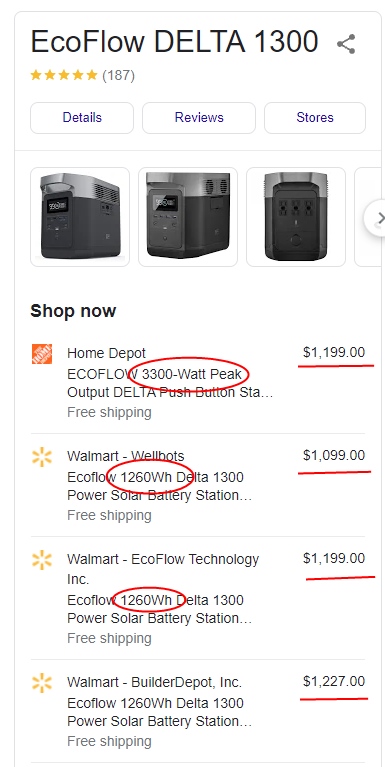 A brand name generator running on gas and providing the same amount of power are running less than half the price and have the enormous advantage of just needed to add gas when they stop and then get back to generate electricity. What the flock are you gonna do with an "Eco generator" once the battery is spent and there are no other sources to recharge it?
In a few years we will see California mandating that all candles be made from natural sources and not paraffin.  That way no hydrocarbon-based light pollutes the shithole the state and thus reducing the only other choice they had to have some illumination when it gets dark and after the mandatory 2 hour use of eco-lightbulbs per night is over.
Dark ages indeed.