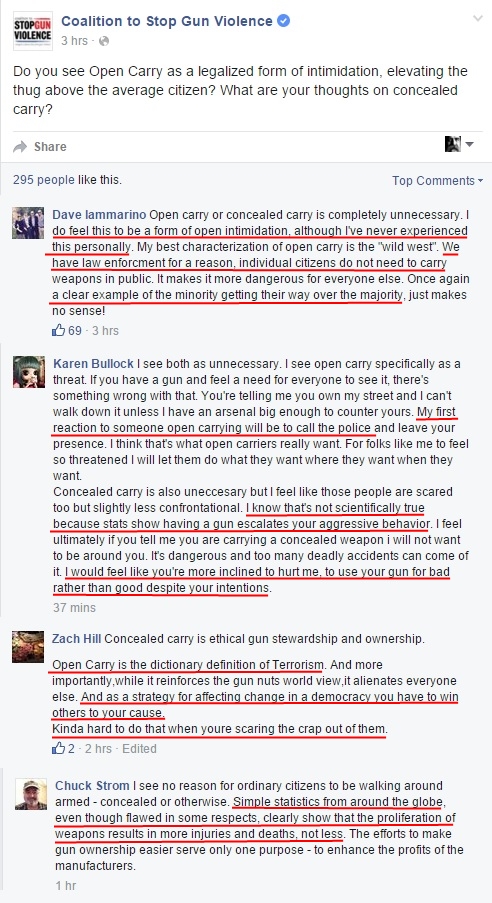 This post in Facebook attracted my attention because I know it was going to be full of all kinds of idiocies and it is, but I selected these four because they represent such a concentration of mental, legal and personal failure in a small sample for all to see.  There were tons of responses from the Penile Brigade (You know, those who go out there measuring the size of gun owner's penis' and compare them to their guns….sexual assault is called), the "NRA is a terrorist organization" clan, Blood for Money, etc. I chose to give them a rest this time around.
So we have people who never have experienced what intimidation is, are most comfortable assuring everybody OC is intimidation and feel personally insulted if minorities get their rights over the wishes of the majority (I am sure Black, Hispanics and others feel quite safe) and if they see you legally Openly Carrying a weapon, they feel that they must call police, waste taxes and see if a confrontation happens where somebody may get killed because they are such sensitive souls and looking for peace.
It is not scientifically that they feel concealed carry is less aggressive ( actually they are by a factor of six) but some study tells them that they MUST be more dangerous because guns and that gun will be used for bad when intentions are good…HUH?
And since they work for Webster, terrorism is now defined by the carrying of a weapon and not suicide bombing a restaurant of beheading Christians or burning pilots alive inside a cage. Nope, Gun Owners are much worse than that.
It makes total sense….In their little slice of Insanity Land.