If you thought that the unpersoning of The Vagina Monologues for not being sensitive to trans-women was the stupidest bit of feminist news you would read today, you forgot just how bad 2018 really is.
Men are now afraid to give women CPR in case they're accused of sexual assault
Women who fall over with a heart attack may be left unaided – as men are too afraid to give CPR in case they are accused of sexual assault.
Researchers from the University of Colorado surveyed people on their attitudes in the wake of the #MeToo movement.
Interviewees said (among other things) that they feared being accused of inappropriate touching or sexual assault, the researchers found.
Men were twice as likely to cite this fear as a reason for not administering CPR, the researchers found.
Congratulations feminists.  You started with chastising us for holding the door open for you and now men will stand around and watch you drop dead because we are afraid that after we save your lives, you will accuse us of sexual assault.
That's significant progress.
I don't doubt this study at all.
We at work had to go through CPR and AED training.
Here is a diagram for proper pad placement for men and women.  We were reminded that the AED pads had to be put directly on the skin for them to work.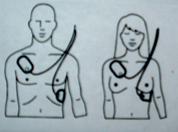 Yes, that means that to properly apply an AED a woman's shirt has to be opened – potentially cut open – and perhaps undergarments removed, i.e. a camisole.
The men were VERY uncomfortable with that idea.  Questions were raised.  If a female employee has a heart attack, should we wait for another female employee to respond?  If a male employee has to remove a female employee's shirt to apply an AED, does he have protection from HR?
This isn't academic, we have a female administrative assistant at work with a known heart condition, she wears a medical alert bracelet and everything.
HR had to come down and answer these questions because our AED trainer was not prepared for those kinds of questions.
So when you have an office full of intelligent, educated men more worried about getting fired for exposing a coworker's brassire than stopping her from flatlining, feminism might have jumped the shark.