For years we've seen the Left take Animal Farm and 1984 and use them as a how to manual.
Orwell is not the only political satirist who the Left reads and says "that's a good idea, we should do that."
Franz Kafka is now on that list. The Trial is my favorite Kafka book.
It is the story of a man, Josef K., who is arrested and tried by a unidentified goverment agency for an undisclosed crime, and in a total perversion of justice, every argument for his defense is turned into evidence of his guilt.
The Trial is where we get the name for a type of logical fallacy, or argument in bad faith, called kafkatrapping.
Kaivan Shroff is a Democrat political activist.  He sent out a Tweet which was retweeted by Fred Guttenberg, which was then retweeted by David Hogg, which is how I found it.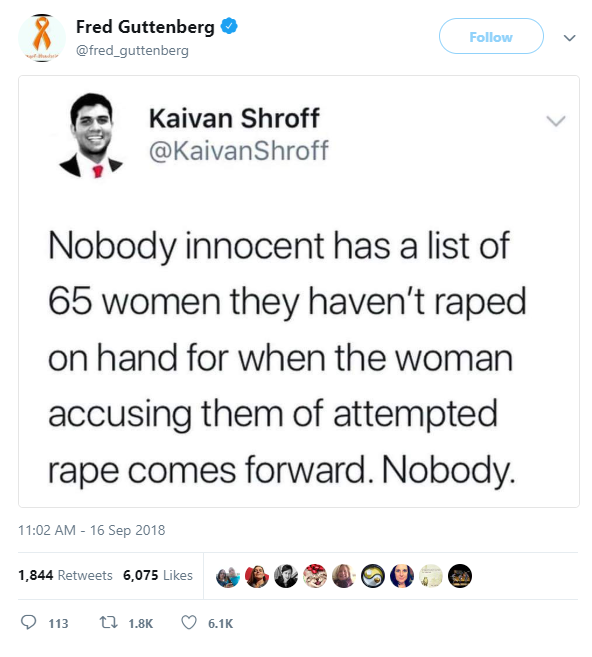 Read that
Now read it again.
Do you understand it?
Having evidence of your innocence is solid evidence of your guilt.
You: "I didn't do it, I have an alibi."
The Left: "Only a guilty person would think about having an alibi.  Guilty!"
We are approaching a the cartridge box fix at breakneck speed.  Once this perversion goes from court of public opinion to actual court, or in the case of Kavanaugh, a hearing, justice in America is doomed.
The courtroom will become a Chinese Finger Trap where the more you fight to prove your innocence, the more the prosecution says that proves you are guilty.
Supporting free speech makes you a Nazi.
Believing in equality under the law makes you a white supremacist.
Providing evidence of your innocence is evidence of your guilt.
They have turned every principle of our foundation upside-down.
This is a purely evil as things can get.