Safety of Religious Institutions: Authorizes religious institution to allow concealed weapons or concealed firearms licensee to carry firearm on property of institution for certain purposes.
Subsection (12) of section 790.06, Florida Statutes, is amended to read:
Remove lines 54-59 and insert:
(c) For the purposes of safety, security, personal protection, or other lawful purposes, a church, a synagogue, or any other religious institution may authorize a person licensed under this section to carry a firearm on property owned, rented, leased, or lawfully used by the church, synagogue, or religious institution.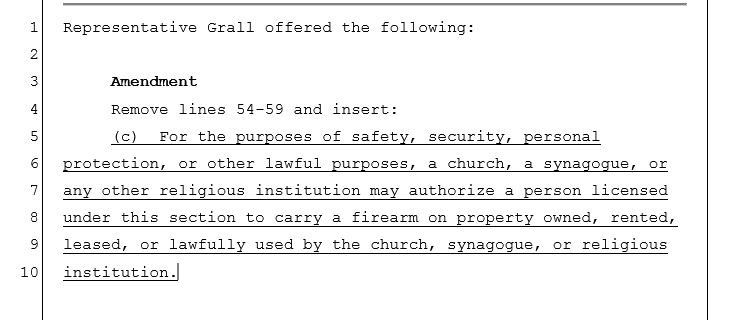 Nice clean bill. I wish all bills were like this.  Voting went 79 Yeas to 35 Nays with what seems like a decent amount of Democrats supporting.
Another one I am cautiously optimistic.