This is a very good observation: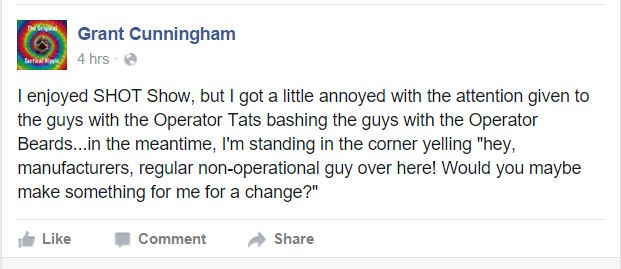 I can understand Grant's disappointment. I have illusions that somebody other than KelTec or Hi Point will come up with a home defense carbine in pistol caliber that is reasonably priced right under $500 for home defense/truck gun.  Alas, what you can only get is expensive AR-based carbines that go play in the $1k neighborhood.
I think that the last bastion of Gun Culture 1.0 that remains is the concept that what the military and police get, is what people will buy. If Seal Team 36 1/2 or Delta Chi Beta Boyz buy somebody's particular gun or knife, that supposedly becomes the new standard and civilians will flock to gun stores demanding it.
That line of thought ignores what has happened in the last 5 to 7 years. It is not the big service pistol the one that has been sold like crazy to civilians but instead it has been the much hated Taurus Judge and the compact and sub compact striker-fired pistols for concealed carry, not quite abundant in the armories of any military or police department anywhere.
I will predict that the first company that starts to offer a reliable production of a decent looking semi-auto carbine without proprietary magazines, will make a boatload of money, specially if it is a take-down model or offers both.
Also, bolt-action rifle in .308 with an 16 inch threaded barrel (and with rail or tapped & drilled for it) so the buyer can play Barbie and build up his own scout rifle? Savage Axis with a 22 inch retails for $370 so don't tell me it can't be done.
Inertia is a hard to get it moving, even in our circles. Colt chose to ignore the public for the government buck and we have been regaled to its telenovela episodes of woe dealing with bankruptcy.
Take heed.