I went to bed yesterday thinking that I could not remember what was my caloric intake when I began my diet last year. I am now down to 1,400 calories a day and I always try to actually stay under it by 100 calories or so knowing that at least once or twice  a month I may go over because an unsuspected sausage biscuit may happened to cross my path in a moment of weakness.  The Noom app is worth its code in gold just for the extensive database of meals with its calories by portions which makes easy as hell to control what you eat.  But I found out it also keeps your history of calories consumed along with your weight and I have to say, modesty aside, I impressed the hell out of myself.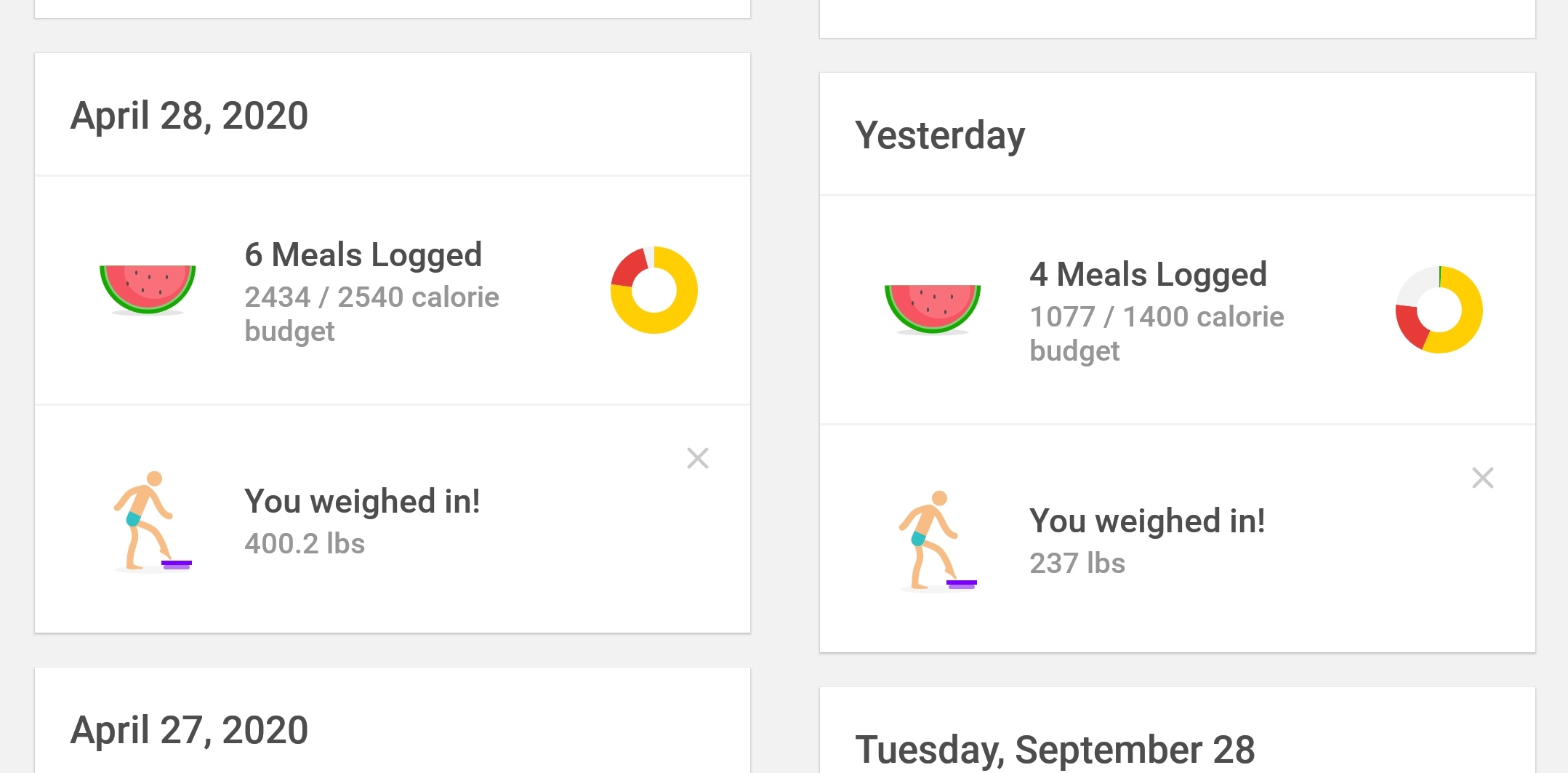 I reduced my calories by more than 1,000!
I weighed myself this morning at 236 pounds, but I do not declare that being official unless I keep it or go under that for three days on a row.  So, for accounting purposes, I have lost 163 pounds since I began dieting almost a year and a half ago.  Back then, I was starting to buy 4XL clothing (one of the things that hinted strongly I needed to lose some pounds) and I am now having to buy new clothes in Large because most of my stuff is simply too big and I look like the youngest kid in the family who inherited the older brothers' apparel.
Although the "experts" say I should be weighing 160 pounds (Not since 1977, so screw that), my final goal is 220 pounds/100 kilos, a nice even number.  According to Noom, I should be reaching that number sometime before Thanksgivings which means I will celebrate with a plateful of the Missus "Four to Six Cheeses Thanksgivings Lasagna." after that, I'll just worry about staying in the neighborhood with a plus/minus 2 pounds variation which is (for some mysterious reason) what you gain when you eat one single Cracker Barrel Country Ham biscuit, go figure.
So I could never dance, I quit drinking decades ago, I quit smoking 5 years ago in November and now I stopped overindulging myself with food and moved back to Tennessee. Shit, I believe I became a Baptist when I wasn't looking 😀
---
UPDATE: I have been told apparently there is some sort of unwritten law where I am supposed to post before and after photos. The only one I have of me "before" showing the circumference is one from 7 years ago and I reckon some 350 to 360 pounds.  The after photo is from 10 days ago.