This article was left in the comments of one of my posts.
Jacksonville gaming tournament shooter had been hospitalized for mental illness, documents show
The gunman who opened fire on a "Madden NFL 19" tournament in Jacksonville, Florida, on Sunday was hospitalized previously for mental illness, according to court records.
Divorce filings from the parents of 24-year-old David Katz of Baltimore showed that as a teenager he was hospitalized twice in psychiatric facilities and was prescribed anti-psychotic and anti-depressant medications, The Associated Press first reported Monday…
Katz legally purchased his firearms — .45 caliber and 9mm handguns — in Baltimore, Maryland, Jacksonville Sheriff Mike Williams told reporters. He bought them within the past month from a licensed dealer, officials said.
Turning to the ATF form 4473, question 11.f.:
"Have you ever been adjudicated as a mental defective OR have you ever been committed to a mental institution?"
As per the instructions: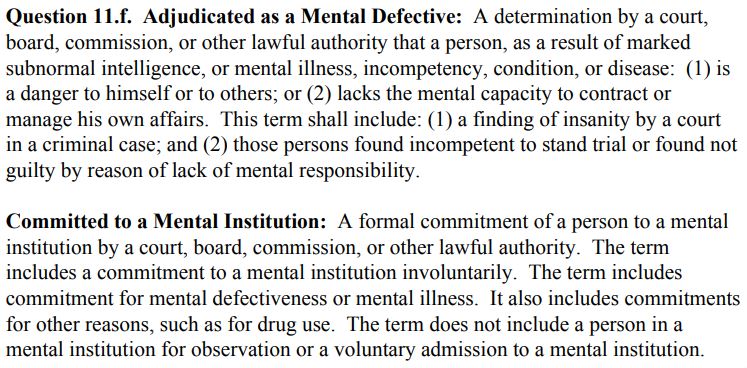 I'm not a lawyer, but it seems to me that Katz here was in violation of 11.f. big time.
So how did he not get flagged by NICS, not once but twice?
Who in the great anti-gun state of Maryland dropped that particular ball.
Once again, it seems we have ourselves a mass shooting that was partially facilitated by bureaucratic incompetence.