Jesus! What a ride this last 60 days. From being blamed for the drug wars in Mexico to some unknown idiot bureaucrat in the DOD demanding to shred military spent brass to the biggest drop in the economy and the establishment of the bases of a Socialist Republic in the United States.
It is amazing to see that either journalists are too polite or to stupid to realize that when you say that the market drop has been the worst in 30+ years, it also includes the drop after 9-11. Or to call it like it is, President Obama was more effective in bringing down Wall Street than 2 jets crashing into the Twin Towers courtesy of Bin Laden.
The latest in grassroots movements is your local area Tea Party where people sick of the government waste of our taxes are starting to gather in protest. The resurrection of the idea behind the Boston Tea Party is seen by many with derision but so it was the original one. We are headed to a major economic crisis and this is the chance Liberal Socialist in our executive branch are waiting for to enact the death of the Republic.
But Miguel, surely you exaggerate. Well, you may think so, but contrary to what many think, what is happening now is not an unique event but it has been repeated in the past and most recently in Venezuela and Zimbabwe. A highly populist leader is elected thanks to the monies of rich idiots and the blissful adoration of a star struck liberal media. Leader takes power and economy tanks due to his ultra liberal economic policies, disrespect for the capital market and unbridled desire for social engineering. Next you know, economy tank, People enter in panic mode, demand solutions from leader, Leader provides promises of solution IF certain liberties are sacrificed for "The Common Good, People give up Basic Liberties, Leader does not fulfil promises, people are shafted and has no recourse but sit there and take it up the keister. Those were the common characteristics of Hugo Chavez and Robert Mugabe and, so far they are eerily similar to what president Obama is doing.  The one that struck me the most was ACORN taking over private property in the name of social reform and defense of the poor which is a faithful copy of Chavez's Circulos Bolivarianos of Venezuela.
However there is one big difference so far between those Banana Countries (I won't soil the title of Republic by associating it with those places) with the USA: Armed population. Both Mugabe and Chavez managed to introduce even more draconian gun control laws in countries already "free" from firearms before the final push. Roving bands of criminals and government supporters (and in some cases they are one and the same) now roam freely in cities and countryside terrorizing innocent subjects (no citizens there) and either stealing them of life and property or making sure no dissidence is felt. Unarmed People are just powerless to reclaim the rights the so freely gave away.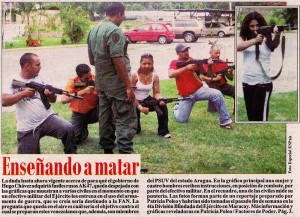 Interesting enough, Chavez ran his first presidential campaign under the banner of Change. Forewarned is forearmed.