Social Justice Warrior and actor Mark Ruffalo sent this Tweet: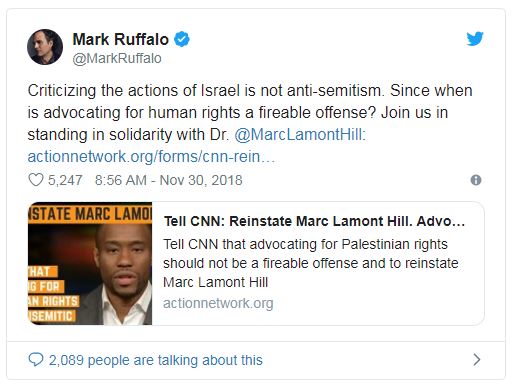 The petition Ruffalo is linking to contains this gem of anti-Semitic Jewish conspiracy tinfoil hatism.
Unfortunately, the ADL already vilified Marc Lamont Hill for his criticism of Israeli policy. Once again we are seeing the American Jewish establishment censor conversations about Palestinian rights by falsely claiming antisemitism, and it is setting a terrifying precedent.
Yep, the "Jewish Establishment" got Hill fired for … using a phrase coined by Hamas and used by Islamic terrorists to call for the destruction of Israel.
For the first time, I am glad Stan Lee is dead because seeing the actor that played The Hulk, a character created by Stan Lee and Jack Kirby, defend a Hamas supporter and Jew hater would have destroyed him.
It's a good thing I was getting done with the MCU because this totally killed it for me.