In Miami-Dade, there have been consistently more injuries, more fatalities, and more cyclist crashes each year since 2005. According to FDOT data, the total number of crashes involving cyclists in Miami-Dade nearly doubled from 2005 to 2013 — from 234 in 2005 to 458 in 2013, a 95.7 percent increase. The Department of Highway Safety and Motor Vehicles reports 18 cyclist fatalities and 928 injuries in Miami-Dade in 2014. Data points to areas such as Miami Beach, Coral Gables, Little Havana, Little Haiti, Overtown, and downtown as areas with high crash counts.

Source: What Is Being Done to Make Miami Safer for Cyclists? | Miami New Times
Let's start with the title: What Is Being Done to Make Miami Safer for Cyclists? Out of the gate, it places all safety responsibility on somebody else but those who you think should be interested in being safe. Sounds familiar?
The chief complaint that cyclists have is that car drivers do not pay attention to them and eventually they get run over even if they are riding on designated bike lanes. And I do believe it is true, but we have this problem of other vehicles also on the road which (sorry to say this) are a bigger threat to our safety and big enough to be noticed. Cyclist are small enough and "grey" enough that do not call our attention until it might be too late.
In the past 10 years, most of my driving has been at night and had some nasty close call with cyclists because they were not visible enough or at all. Something as simple and cheap ($20-$30) as a safety reflective vest in orange or yellow can make the difference between arriving home safe or ending up in the ER. The problem is that those things are not cool looking. Look at the picture above: it is daytime and you those wearing bright colors immediately pop out and call your attention.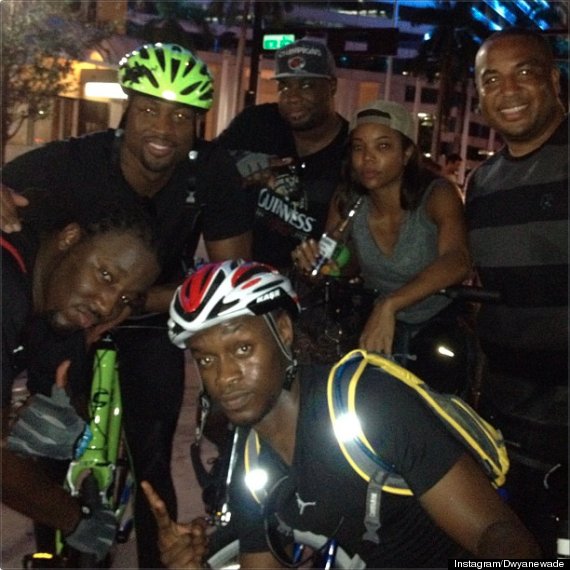 And by the way, slapping a three or four inches of reflective stickers and adding a couple of LED lights barely reaching the double-digit Lumens to the bike does not make you safe at night either.  I know some will think as vandalizing to add more to their very precious and very expensive bikes, but I figure having your toy crushed by a truck is a bigger case of vandalism.
You as a cyclist, cannot expect that more laws or bike paths will keep you safe. Being highly visible is what will increase your chances to avoid being transformed into a road stain.
PS: Also, don't be dicks.