So I will soon be joining the millions out there without a job. Amazingly enough, rather than bad times almost everybody at my hotel is being sacked because the hotel is going into renovations. The sheer stupidity of shutting down right before the tourist season with at least three major conventions coming to the area during the same season and leaving over a hundred people without jobs has not ran well with the working bees. Hell, people are pissed off and they are vocal about it leaving me wondering if somebody may actually work out his/her anger into a full revenge mode.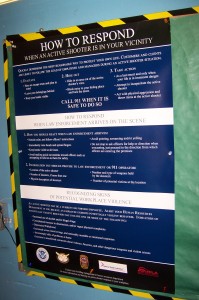 Of course the same management that made the decision of sacrificing the goose of the golden eggs has prepared itself in the event of a really pissed-off worker deciding to use them as target practice with the poster pictured above which details how to respond to an active shooter. Also some cute card-sized instructions have been passed along so you can pull you bifocals and read them as soon as you hear the detonations. That and 911 is pretty much all the permitted defense we are entitled to in a Gun Free Zone because as sure a Christ made little apples, Security (Me and my fellow officers) is not going to risk becoming a receptacle of bullets for anybody at work. Callous? you betcha but I kinda value my life first and foremost and unarmed heroics make for a nice obituary and a widow but not much else.
Thankfully in Florida we are allowed to have our weapons secured in our vehicles at work. Not that it will make a whole lot difference if I happen to be one of the first unlucky ones that face an active shooter but if I am spared of the initial volley, I can always make a bee line for the parking lot, retrieve my sidearm and take a defensive posture (And you thought I was going for the heroic shit and save the day? Nope!) It was my custom to leave my vehicle keys in the locker so I would not lose them during the active shift, but after the announcement that we were out, I carry them with me all times. I also try to park as accessible as possible to the work area and my awareness of everything and everybody has grown  a hundered-fold. Still it is a incomplete solution to a serious compounded problem created by silly job and legal politics. Then again it will be over in 2 weeks. Till then, prayer is in the procedures instead of a gun.