When I finally upgraded my old DirecTV box to a DVR, I went through the motions of setting my favorites and I guess I accidentally programmed Current TV (Wholly owned subsidiary of Global Warming Enterprises owned by Al Gore.) If you have nothing else to do, I recommend you watch it every so often to get a good laugh at the fantastic level of stupidity you can see in some of its shows.
I just finished watching one of their documentaries called Wanna buy an AK-47? by Kaj Larsen and Chritsof Putzel. I'll take their word that two whiter than Wonder Bread youngsters just stroll in the middle of a Somali gun market, video camera in hand and proceed to haggle for guns. The expected anti-NRA rhetoric is obviously expressed by Mr. Putzel (more on his name in a minute) who tries his best to look professional handling both and AR-15 and several Aks but it looks like his experience does not go farther than playing with Arisoft replicas. Mr Putzel is even amazed at the fact that they sell RPG launchers (no grenades) openly and touches one with fear as if the launcher was going bite him
The best part of the video however is when Mr. Putzer visits another gun selling establishment and a Somali decides to mindf*ck him by aiming an RPG launcher at him. Mr. Putzer just wobbles and freaks like a little girl looking at a mouse and a roach copulate, pushes the launcher away and him and his cameraman seek refuge under a wooden shack to the absolute delight of the Somalis present who can't help and laugh at the two morons.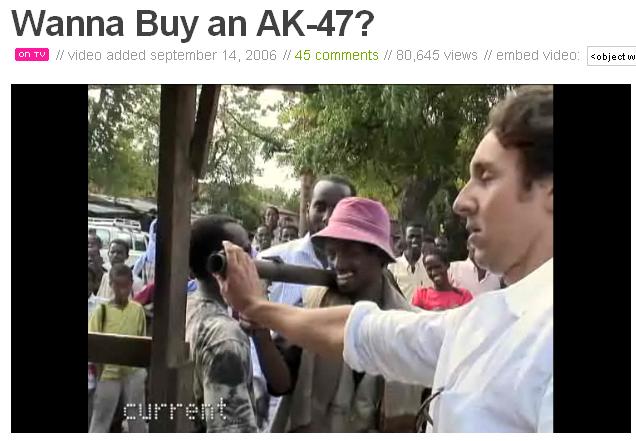 You can even here somebody in the background say "No bullets!" amidst the laughter and catcalls. Of course, next comes the obligatory "We are suddenly in danger and we must flee for our lives" scenes and I actually believe it happened. Even though in the video they sort of hint that maybe they overstayed their visit at the gun market with a video camera, I suspect that in reality the translator might have overhead the crowd say something along the lines of "These two idiots just crapped their pants when somebody aimed an empty tube at them. I think it is time we introduce them to the joys of Somali Man-boy love."
PS: Yes, the tactical bolding of Mr. Putzer's name is a cheap and low pun. But it is damn funny and accurate after watching the video.