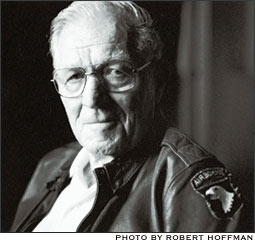 I treasure my remark to my grandson who asked, "Grandpa, were you a hero in the war?" Grandpa said, "No… but I served in a company of heroes".
Richard Winters quoting Mike Ranney on how Ranney answered a question his grandson once asked him.
But we in it shall be remembered-
We few, we happy few, we band of brothers;
For he to-day that sheds his blood with me
Shall be my brother; be he ne'er so vile,
This day shall gentle his condition;
And gentlemen in England now-a-bed
Shall think themselves accurs'd they were not here,
And hold their manhoods cheap whiles any speaks
That fought with us upon Saint Crispin's day.
Rest in Peace Major. We cannot ever than you enough.