Over at the  Coalition to Stop Gun Rights Violence's Facebook page.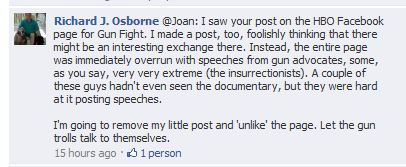 It is official, they are scared shitless of becoming irrelevant.Even the sacrosanct bastion of printed Liberalism known as the New York Times has this to say about Gun Fight.
There isn't anything new in the film to upset the gun lobby, but there's plenty to depress anyone who thinks that the country would be better off with fewer than its tally of some 250 million guns.
We keep saying. We are winning.