The Coalition To Stop Gun Rights Violence's Twitter feed gives us this scary warning: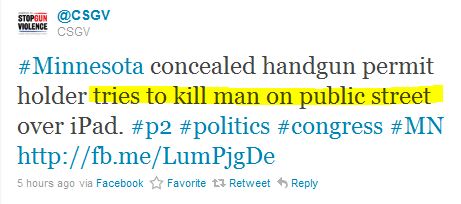 However one clicks the link and finds the real story:
A Cottage Grove man is charged with recklessly shooting a gun in a city after an attempted sale of an iPad went awry, according to authorities.
A witness told police that she had seen a man run from an SUV and then saw the driver chase him and shoot a gun down Marie Avenue, according to the complaint.
Cherrier told police he fired a shot in the air as the man ran away with his iPad, the complaint says. He did have a permit to carry a pistol.
If the events happen as portrayed in the article, the gun owner was wrong and should face the consequences if found guilty of the charges. But it still does not explain the need for CSGV to lie. Well, it does: They are slowly sinking in the quicksand of irrelevancy and these are the cries of a dying organization.