Another capture from the Coalition to Stop Gun Rights Violence Facebook Page.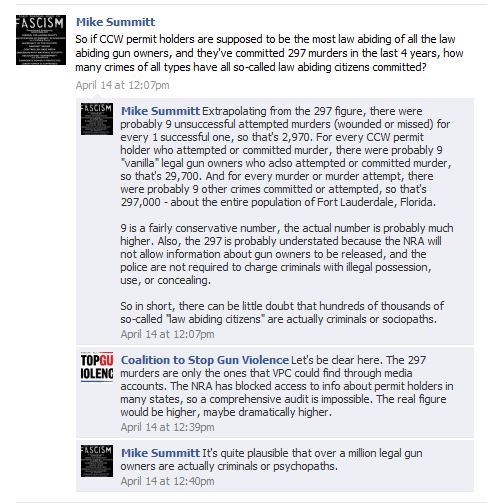 First, let's clear one item: If you commit a crime with a gun, the information about your CCW becomes public since it is part of the police investigation. Plus, the fact that the media mentions it belies CSGV's statement that those records are somehow sealed by evil minions of the NRA.
CSGV's definition of MURDER EVIL AND DISGUSTING pretty much covers any person with a CCW that has been arrested for killing somebody but not necessarily tried and convicted. They already had some embarrassing corrections to make when a jury found shootings justified self-defense cases. Murders by criminals are not interesting to CSGV, Japete or their affiliates, they are OK in their book.
Now to the math: 297 murders in four years come out to 74.5 murders a year, but let's round it out to 75 for clarity's sake. The number of murders for the last four years was 65, 642 or an average of 16,410,5. Again for clarity's sake we will use 16,410 as our number.
So, out of an average of 16,410 murders a year, and average of 74 are committed by CCW individuals which gives us a grand total of 0.45% of the murders. That is less than half than one percent which is the number we have always acknowledged since we are realists and know some bad people will always sneak regulations or regular people will do stupid and deadly stuff.
So basically I will like to express my gratitude to  the Coalition to Stop Gun Rights Violence for confirming we have been telling the truth all along even if that was not their intention.