It began with this ABC News report on a video by California-born AlQaeda spoke-dunce Adam Gadahn telling fellow terrorists to:
"go down to a gun show at the local convention center and come away with a fully automatic assault rifle, without a background check, and most likely without having to show an identification card. So what are you waiting for?"
The Twitter Feeds from Gun Enthusiasts were ablaze with laughter and the same for Facebook and other social media hubs. Apparently Mr. Gadhan is unaware on how difficult and how controlled and complicated is the acquisition of a full auto firearm. It is not just like going to your local supermarket and by a loaf of bread.
But, of course, there is a group that has no qualms siding with idiocy and the enemies of our country if it serves their purposes.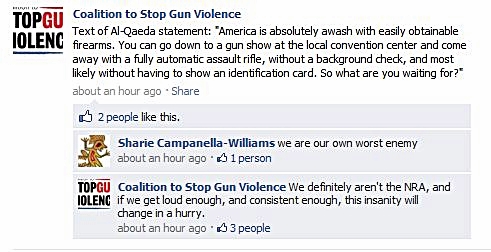 And they had the cojones to accuse us of insurrection and treason?