Laddite Mike Summit is at it once again and he is getting better: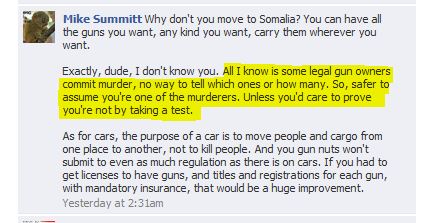 We must realize that people like Mike is one of the "enlightened" ones. People like him are willing to vote on confy gulags and summary judgements just because we have the balls to exercise our constitutional rights.
People like Mike are so full of hate that they are blinded beyond logic.I would not be surprised to see in the paper that him or one like him pulled some sort of mass killing in the future. They are getting desperate as they disappear into the nothingness of irrelevance and they do not pretend to go quietly.
I won't even bother touching his gun v. cars verbosity other than saying I would not mind see gun rentals at all airports just like they do with cars.