It took them 24 hours, but finally they managed to come out with some silly stuff.
Actually Mass Killers would not be around since they kinda hate going into places where they can be shot.You see, hunting ain't fun when the bunny shoots back. And to Mr. Austin, you will not find any pro-gun commentaries in the CSGV Facebook page: they get deleted as soon as they are detected. Remember, If You Are For Gun Control, You Must Relinquish Thinking!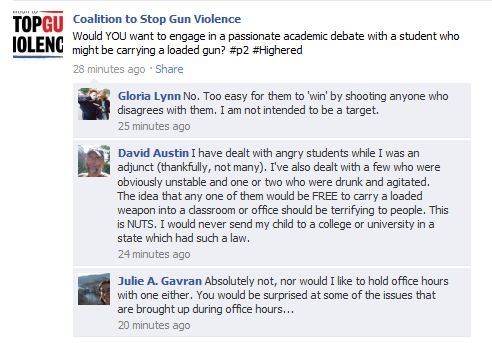 But if you do not know if he is carrying, how do you figure who to debate or not debate? Me thinks you are looking for an excuse for Professors not to do their jobs and educate….wait, they are not doing that already if they are thinking like this. And I am still amazed at the absolute contempt these people have for College students. They think students are all a bunch of crazed, over sexed, intoxicated fools unable to control themselves.