I have remiss on my coverage of CSGV's Facebook page, my apologies and here we go.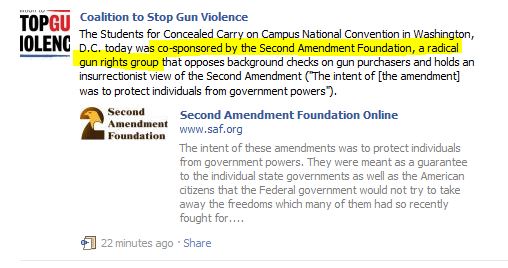 Radical as in successfully gone twice to the Supreme Court, argue Second Amendment cases and beat both the Federal Government and the Chicago Political Machine? It might be a radical concept for you guys that the Second Amendment of the Constitution should be as respected as the others, but that is far from being treasonous. For that, you may want to check your nearest mirror.
.

And what would be the CSGV-approved distance to defend onself? Just for the hell of it and as a way of example, you may want to learn about Tuller's research about knife attacks. And not for nothing, Self Defense is not a sporting discipline where both parties agree to a set of rules and a referee is present to make sure everybody plays nice. When my life is on the line, I plan to cheat and win.
.
And if there was any doubt that CSGV is nothing more than a Left Wing front, this quote should dispel such thoughts. I found this quote from Miss Burbick:
Instead of addressing the root causes of the inequalities in our society, such as the limits of access to education, jobs, housing, the legal system etc., we invent or come up with crime scenarios. The gun becomes the substitute way to solve conflict in the United States, and the biggest conflict of all is crime.
Well, if I happen to bump into an armed criminal intent on redistribute my wealth and life, I find that defending myself with a gun is a very efficient way to de-conflict. It also teches the misguided soul about the problems of poor victim selection and its consequences. If he is lucky, he may get to re-evaluate his career path and maybe become a useful member of society. And I also get to keep my life which allows me to work and pay the taxes to fund the bullshit Social Engineering programs that Miss Burbick and her kind are so fond of supporting.
.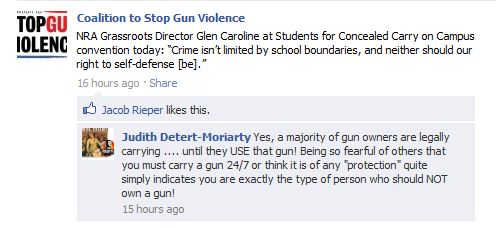 If anything, this is a great example of the distorted thinking that populates CSGV. Use a gun and that makes you a criminal; life is not sacred for this bunch, at least not our lives. "If you carry a gun, people will call you paranoid. That's ridiculous. If I have a gun, what in the hell do I have to be paranoid about?" Clint Smith.