About a month and a half, the first anniversary of Virginia allowing Citizens legally carrying guns into bars and restaurants gave us the report that not only there were neither "shoot outs" or "blood running down the dance floor" as we all expected. If anything, a drop in crimes involving firearms dropped; again, nothing we did not know.
Tomorrow, a similar legislation starts in Ohio. CSGV and the rest of the usual suspects are once again losing their minds and warning of impending massacres for a missing olive in the appletiny. But the cake was olympically taken by Andrew Goddard, father of Colin "I can see chewing gun under the desk" Goddard: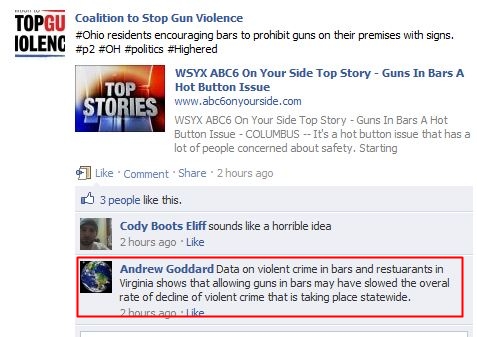 The amount of mental acrobatics used by Mr. Goddard . by pulling a statistical bunny out of the illogical & irrational Top Hat is so impressive by comparison makes Cirque du Soleil look like a bunch of comatose paraplegics taking a nap.
But their delusion is helpful. As long as they keep upping the loco ante, the more people will see them for what they are and the more irrelevant they become.
And we win.