Found during my Facebook Patrol of the Brady page: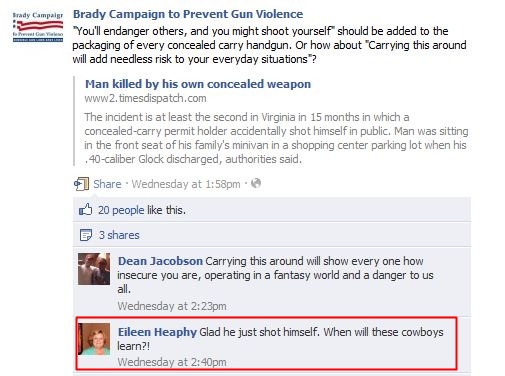 At first it was just going to be another chapter on the saga of "Why are Anti Gunners so Violent?" But when I clicked on Ms. Heaphy's profile, I found this:

Wait one? City Council? Elected position? I did a Google Search of The Stamford Board of Representatives (spell checked just in case) and I did find that Eileen Heaphy is in it and with the title Deputy Majority Leader. This is her bio in Irish American Democrats.
She was a Diplomat, but I guess it did not take after all. And maybe I am getting myself in trouble for messing with a former NSA member, but that an elected official would demonstrate such glee about the accidental death of a fellow Citizen even when he was not in her district is just appalling.
Gun owners in Stamford should be aware of the sentiments of Representative Eileen Heaphy and possibly remind her that he duty is to all Citizens, gun owners or otherwise and that the accidental death of a human being in front of his four children is not a matter of celebration.