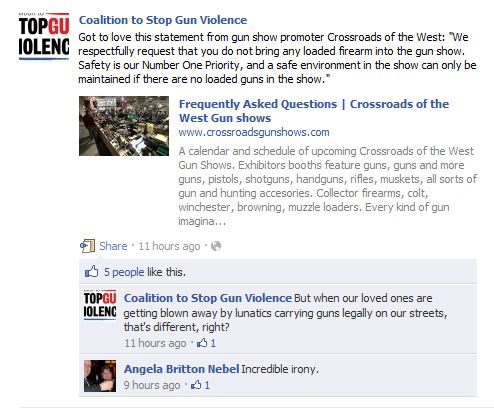 Dear Ladd: We all know that your experience with gun is basically what you see in the movies so sit down and pay attention at the following, OK?
When we carry in the streets, we don't blow your loved ones, unless of course your loved ones are criminals that are trying to do us harm and then they become fair game under the law.
Next, again when we carry a loaded gun in the streets, we do so in holsters or other devices and nobody but the owner manipulates the weapon. At a Gun Show things are a bit different: the guns brought in are for sale and part of that transaction is for the buyers to do a function check and a ergonomic check on the gun to see it it works & feels properly, much like taking a car for a quick spin before buying it or wielding a hammer at a Home Depot before heading for the register. So it makes sense to make sure over and over that a firearm is unloaded since a  buyer might not be familiar with the operation of a particular gun. I know, according to you and the Press if it is a short gun, it has to be a Glock and if it is a long gun, it has to be an AK-47 but there are many different types of guns out there other than those two and they ll have their individual quirks and characteristics. And that is why it is safer to attend a Gun Show than walking the streets of D.C or NY or Chicago.
I hope it helps!