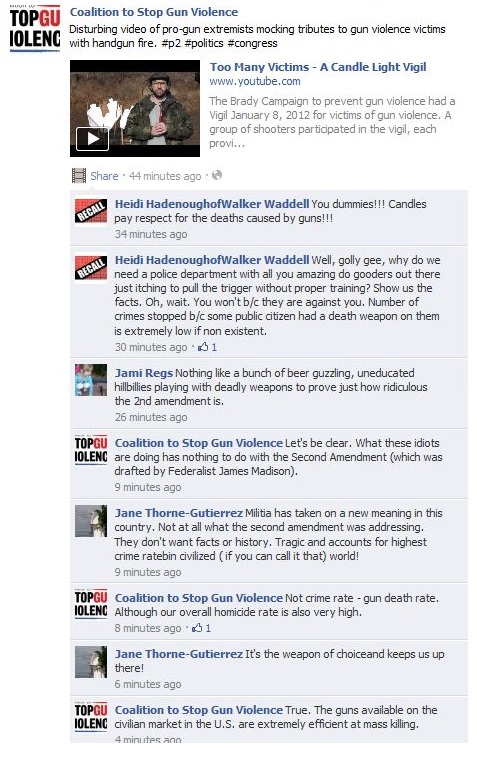 Some great snark-ready comments right there:
Heidi HadenoughofWalker Waddell You dummies!!! Candles pay respect for the deaths caused by guns!!!
(So candles are disrespectful of Non-Gun deaths? Shameful Candles!)
Heidi HadenoughofWalker Waddell ….Number of crimes stopped b/c some public citizen had a death weapon on them is extremely low if non existent.
(You do realize that there are other things in the Internet besides the CSGV FB page and Japanese Cat Porn, right? Like News websites? )
Jami Regs Nothing like a bunch of beer guzzling, uneducated hillbillies playing with deadly weapons to prove just how ridiculous the 2nd amendment is.
(Prejudiced much? You know the people in the video are from Idaho, right?)
This one came after the screen capture:
John Donnaruma I noticed that the gun-nuts never mentioned GUN violence, which is common for the anti-gun control people who comment on facebook. They all read from the same script, which makes finding reasonable common ground with others difficult in the fight to prevent gun violence.
(Maybe because if I am killed by a gun or a knife or a rebar it makes no difference? Dead is dead and objects do not commit violence, humans do. But you guys and your animistic quasi-religion keep trying to sell a load of BS to a country that stopped buying your product long ago.)
Jamie Gronko Wow…no offense but to me it looks like none of those people would be able to win a quick draw match against their so-called criminals they're 'protecting' themselves from. But they're the trained ones…such a pathetic video.
(Quick draw match? Have we been watching way too much TV & Movies? That would explain the comment.)
Oy!