Yes, I know that the Zombie Craze can be a bit overwhelming but who cares? Apparently some purists think so and they are starting to sound a bit "Fuddish" to me.
Has the Zombie Craze jumped the Shark? Absolutely!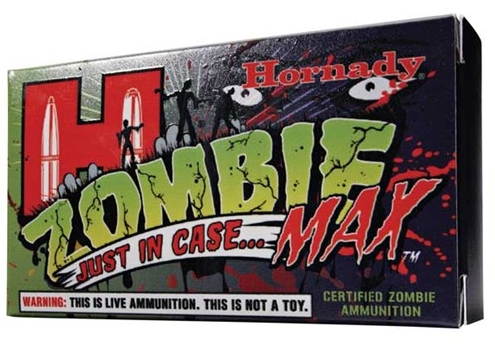 When a mayor ammunition manufacturer starts offering Zombie-Specific rounds, the Craze not only has jumped the shark but did it with a reverse two-and-a-half somersaults into the pool full of blood and body parts. Again, I see nothing wrong with that.
I see the point that the complainers have. Guns are serious, guns are for (self-defense, hunting, bullseye, etc. Take your pick) and we should be taking it so lightly. Dudes, relax Shooting is also supposed to be fun. "But it is not realistic!" you will hear some action shooters complain to which I respond, "please show me where people have been attacked by a Texas Star."
What has the Zombie Craze achieved then? It has brought new people into Shooting. For the most part by a friend that already shoots and convinced them that shooting real guns with real bullets in real life beats any XBox game out there. Take a friend to a square target range to shoot bullseyes and he or she will be bored within 20 minutes. Get them safely into a fantasy game of advancing hordes of Zombies and they'll spend an afternoon of fun…. and come back.
Some of those new shooters migrated to Action Shooting sports. We are not isolated anymore. It takes a small search on Youtube or other video hosting sites to catch a Zombie Shoot video and then a related video of some club hosting a Zombie Match besides their regular action shooting matches. All of the sudden people are exposed to IDPA, IPSC, Cowboy Shooting, Zoot Shooters, etc and think "Whoa! That looks like fun too!"
And last but not least, it makes shooting fun! I am all for training and practicing defensive shooting, but sometimes just shooting for the fun of it is right. Losing yourself in the silliness of a group discussing what caliber is best for Zombies, tactics to avoid The Crush, the need for gas masks if the Zombie attack happens in the summer (all that rotten flesh) is totally absurd and totally fun.
And lastly, you realize that Hollywood Movies notwithstanding, a shotgun is a poor choice to fight zombies: Heavy recoil, low capacity, heavy. Carbine first followed by handgun as back up. Grenades if the numbers are too great and you can herd them into a tight location.
PS: Another Shark Jumping product just released.