Posted in the Coalition to Stop Gun Rights Violence Facebook page: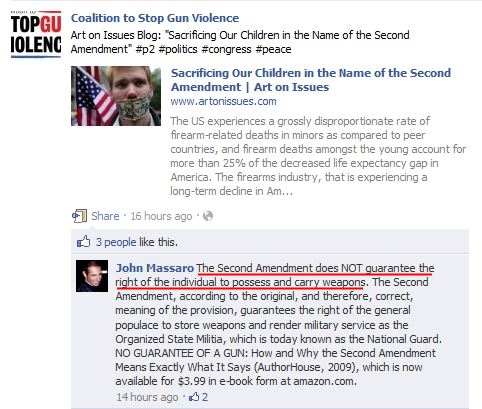 These idiots still have not figured out that the moment they assign "The Right Of The People To Keep and Bear Arms" as a Collective Right and therefore subject to the total control or outright dismissal by the Government, they are also attempting against the rest of the Bill Of Rights.
Next time some Laddite parrot tells you that the 2A only applies to the National Guard, ask them to explain the difference in interpretation between The Right Of The People in the Second Amendment versus the interpretation of The Right Of The People in the First, Fourth, Ninth, and Tenth Amendments.
If you are really on a cruel streak, ask them to explain DC v. Heller and then McDonald v. Chicago.
Get a mop before you do that: they will either spit in rage, drool with idiocy or their brains explode in ignorance.
PS: Always good reading to remember: The Embarrassing Second Amendment.